Summary:
bountiXP, an employee recognition and engagement platform based in Cape Town, South Africa, were looking to launch their innovative new platform and needed to drive demo bookings and get users to sign up.
Together with the team at bountiXP, we were able to develop an aggressive inbound strategy that would drive the right leads, boost organic traffic, and build brand awareness.
HubSpot was implemented as a way to centralise their marketing and sales activity as well as provide our team with a platform from which we could launch their inbound campaigns.
Together we've been able to achieve:
4x

increase in monthly website leads

3.3x

increase in overall website sessions.

500%

increase in organic traffic in just 10 months.



About bountiXP:
bountiXP is a SaaS employee recognition, engagement and reward platform that's been designed to drive strategic business objectives through increased employee recognition, engagement and personal motivation.
bountiXP is a 'full-suite' engagement platform to be built and launched in South Africa.
Challenges that bountiXP was facing:
bountiXP launched its platform in South Africa in mid-June of 2018. This meant that they needed to develop and launch a marketing campaign that would help them get their first users onto the platform and create demo opportunities for their sales team.
They needed to:
Get users to sign up for a free account.

Drive traffic to their new website with a specific focus on building organic traffic.

Educate businesses on how to successfully recognise staff, boost engagement and improve performance.

Implement HubSpot as the backbone of their marketing and sales activity.
Together with bountiXP, we developed a 12-month inbound campaign. This consisted of full content, social media, and PPC strategies as well as campaign implementation and management.
What they needed was an agency to develop a cohesive strategy that would address the challenges of brand awareness, market share growth but also consistently drive the right kind of leads.
"Uku have been phenomenal in assisting us in achieving this, with their creative & strategic minds, positive 'can-do' attitude and Inbound Marketing expertise. Absolutely love 'working' with them." - Judith Aranes, Marketing Manager, bountiXP
How Uku Inbound was able to help:
Our team here at Uku was able to develop and launch an effective inbound strategy that consisted of a social media strategy, a content strategy as well as an on-page SEO and backlinking strategy to support long-term sustainable growth.
To tackle lead generation early on in the campaign we developed an omni-channelled PPC campaign to drive high-quality leads for bountiXP. Google search and display campaigns were used to drive new users to the site, while Facebook, Instagram and LinkedIn ads were used for remarketing and content promotion.
To effectively carry out our strategies, we migrated bountiXP onto HubSpot. As bountiXP's primary CRM, and content management system HubSpot enabled us to effectively provide end-to-end reporting on each campaign, detailed contact and content analytics and subdomain management.
As bountiXP is a SaaS product they decided to offer free trials of their product to potential customers. To streamline this process Uku Inbound facilitated the creation of multiple landing pages within HubSpot with lead qualification forms to drive conversions.
"We've found our partnership with the team at Uku Inbound incredibly valuable. From delivering a digital strategy that continues to produce results, to introducing a host of new marketing techniques and methods to our team, Uku has been instrumental to bountiXP"
- Geoffrey Amyot, bountiXP Director, CEO of Achievement Awards Group
What were the results?
4x increase in monthly leads
bountiXP has seen a 4x increase in the number of leads generated each month. This continues to grow month-on-month.

500% increase in organic traffic
bountiXP has achieved a 500% increase in organic traffic in the last 10 months. This continues to see month-on-month growth as our content strategy really starts to set in.

Average time on bountiXP's blog is 3 minutes
bountiXP is averaging a 3-minute time-on-page for their blog, which indicates that our content is resonating with our audience.

Website sessions have increased 3.3x
The bountiXP website has seen website sessions grow 3.3x from September 2018 until June 2019.

Adwords has generated over 2 million impressions in just 10 months!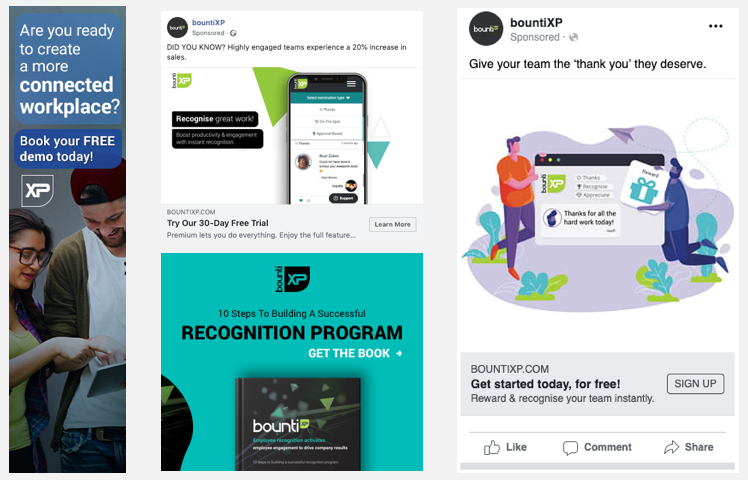 Key Takeaways:
bountiXP has been an interesting challenge for the team here at Uku Inbound. We started from ground zero, but with a consistent and cohesive approach to bountiXP's unique challenges, and a strong alignment between the two teams, we've been able to achieve excellent organic results in just 10 months.
We've been lucky enough to form a collaborative partnership with bountiXP's internal marketing team, who provided us with unique insights into their challenges. They have firmly adopted inbound marketing and HubSpot which have both been pivotal to our success so far as a team.
Are you keen to find out how Uku can achieve exceptional growth for your brand?
Go ahead and schedule a 30-minute call with us to find out how we can help you - simply click the button below to book a time 👇🏼