Attracting and retaining customers is the lifeblood of any business.
Did you know that it can cost up to five times as much to attract a new customer as it costs to keep an existing one?
According to research by Voss & Giraud Voss (2008), when competitive density is high, a customer acquisition strategy that focuses on innovation and competitor research will boost business performance.
Therefore, in order for your business to create a sustainable competitive advantage, you need to develop exceptional and innovative strategies for attracting new customers to your business.
In this blog post, we're going to dive into all the reasons why your business needs a great customer acquisition strategy.
READ: The Complete Guide to Customer Acquisition
The question we're going to answer for you is why you need an acquisition strategy and I think the best place to start is to understand what the landscape looks like:
It's important for your business to understand this landscape.
Today, customers are more aware and educated than businesses have ever experienced before, and they demand an experience that goes above and beyond expectations.
We can thank brands like Amazon for leading the charge on this, leaving many businesses in their wake of exceptional customer service.
On that note, we're going to take a look at three brands that have customer acquisition strategies that are innovative and responsible for driving their respective market share growth in big ways.
Let's get started:
1. Amazon uses email personalisation to drive higher conversion rates.
Amazon uses an extremely targeted email marketing strategy to drive customer acquisition. Segmented and targeted emails generate 58% of all their revenue.
They will send you follow up emails with products you've been browsing as well as personalised newsletters to remind you of all the latest deals on the items you've seen.
According to research by eConsultancy, personalised email marketing campaigns can increase your customer engagement by up to 74%.
One case indicated that Amazon had sent 12 personalised follow-up emails to a user to nudge them towards purchasing the product they'd had their eyes on.
This is a strategy that works for Amazon whose dominating the densely populated eCommerce space. The company that started in 1994 out of Jeff Bezo's garage is now worth $111 billion.
READ: How to write emails that convert! [Free template included]
2. Slack leverages word-of-mouth marketing.
They're already hallmarked as the fastest growing business app the world has seen to date.
When Slack publicly released their SaaS product in February 2015, they'd already acquired 500, 000 daily active users. Today, Slack boasts 8 million daily active users with 3 million of those as paid users.
Here's how Slack utilised word-of-mouth marketing;
Slack's CEO and founder was able to leverage his business contacts to use the SaaS platform. This saw the platform receive 8000 new signups, and that figure doubled within their first two weeks.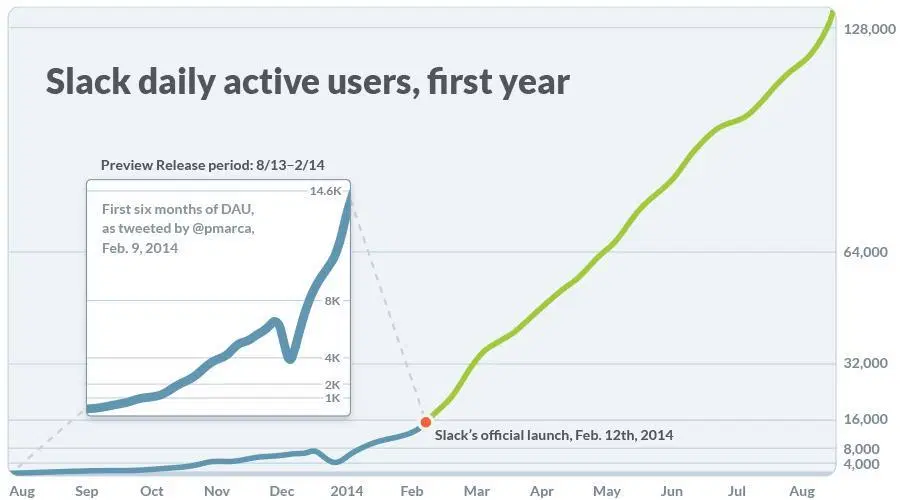 Image source: Quartz
As a part of their word-of-mouth tactic, they utilised social media micro-blogging platform, Twitter to reach a wider organic audience as well as to drive website traffic.
Slack is now valued at over $20 billion!
READ: Customer Acquisition Cost: Why it's so important for your business
3. Canva acquires customers through content marketing.
Canva, the popular graphic design tool utilises content marketing to acquire new customers.
They do this by leveraging content partnerships with companies who share the same sort of audience, such as HubSpot and Buffer.
This type of content marketing strategy along with word-of-mouth and customer recommendations have helped Canva acquire 10 million users per month.
Content marketing with a strong focus on SEO optimisation has the ability to boost your businesses organic reach, rankings and domain authority. It costs less to get going with.
Interestingly enough it costs 62% less than traditional marketing and boasts a 6x higher conversion rate.
DOWNLOAD: Content Marketing Strategy Template
Key Takeaways
Customer acquisition is the key to growth.
In order to develop innovative acquisition strategies that drive new customers to your business you need to understand your customers and their needs intimately.
Your strategy should be feeding you data, which should then be analysed, assessed and optimised for a streamlined growth strategy.
Are you convinced you need an acquisition strategy yet 😉?