Trends, tactics, stats, algorithms and technology are always changing.
Yet they all contribute to the one thing that's always constant.
Change.
This change has never been more evident than in the COVID era we're all living through.
Businesses and governments are working tirelessly to adapt to what we can now safely call our "new normal".
This has meant that the speed at which we adapt is what will set us apart.
So we've gone and curated a list of the top marketing and sales trends and stats to help you stay on top of all the latest developments in the marketing world.
Let's get started:
Marketing Automation
HubSpot has won three of the 2020 Top-Rated Awards from Trust Radius; for All-in-One Marketing, Marketing Analytics, and Marketing Automation software".
It's rated the world's leading marketing automation software 🥇.
According to built with HubSpot is the most popular marketing automation platform in South Africa.
Their data indicates that 1271 businesses in South Africa use the HubSpot CRM.
Find out how we used HubSpot and Inbound marketing to help bountiXP:

Increase their website leads by 4x,
they also saw a 3.3x increase in overall website sessions,
and a 500% increase in organic traffic in just 10 months.
Take a look over 👉 here.
If you're wanting to find out more about HubSpot and what it can do for your business please, get in touch.
Email Marketing
HubSpot successfully delivers over 1 million emails for their customers every month? Now you do 👏.
Have you ever wondered what channel produces the highest ROI for businesses? Well according to research by Campaign Monitor its

email marketing

.
In fact, email is 40X more effective at customer acquisition than Facebook or Twitter.
Across all HubSpot accounts, you're able to analyse several email metrics to ensure you're optimising this lucrative channel for the best possible results.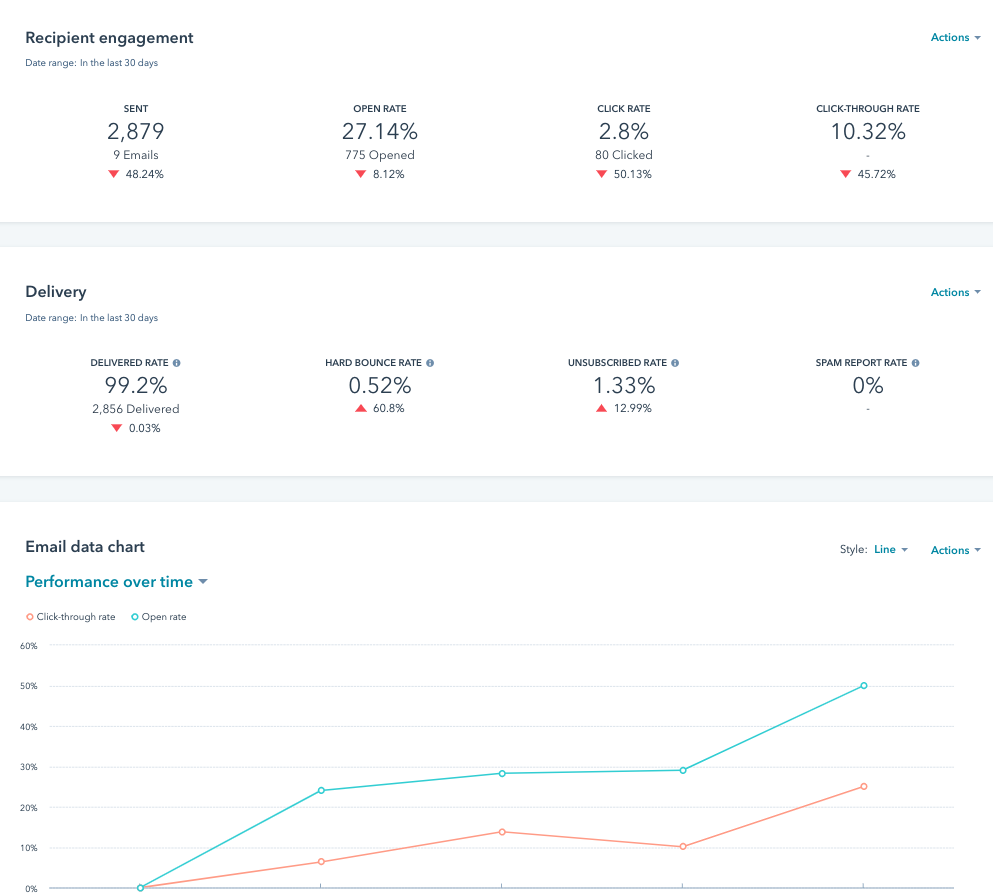 Email marketing is not as simple as writing an email and pushing send. There's an art to making sure that your emails convert and positively affect your bottom line.
Research by MailChimp suggests that click-through rates are 100.95% higher for segmented emails.
The same study also indicated that marketers who used segmented campaigns can experience as much as a 760% increase in revenue.
We're great advocates of effective segmentation, so take a look at our blog that suggests 30 different ways to go about segmenting your CRM.
Did you know that 35% of recipients open an email because of the subject line? It's important that you make it catchy, enticing and relevant to the receiver or those open-rates might not look too great.
Businesses that use interactive email subject lines get 70% higher conversion rates than those that don't.
Something similar to this:

Or the emoji debate…🤔to emoji or not to?
According to a report by Experian, 56% of businesses that use emoji's in their email subject lines experienced higher open rates than those that didn't.
Something similar to this:

We wrote a blog to help you start writing emails that will convert your leads into happy customers, it even includes a nifty template to get you started too.
Social Media
According to HubSpot's "Not Another State of Marketing Report, 2020" 74% of marketers globally are actively investing in social media marketing.
The same report suggests that Facebook sees the highest return on investment for marketers globally.
According to Buffer, marketers measure the ROI of their social media efforts through engagement, traffic, and leads generated.
Sprout Social indicates that 77% of marketers use social media analytics to measure campaign performance.
HubSpot's social media reporting tool makes it easy to track and measure campaign performance, holistically.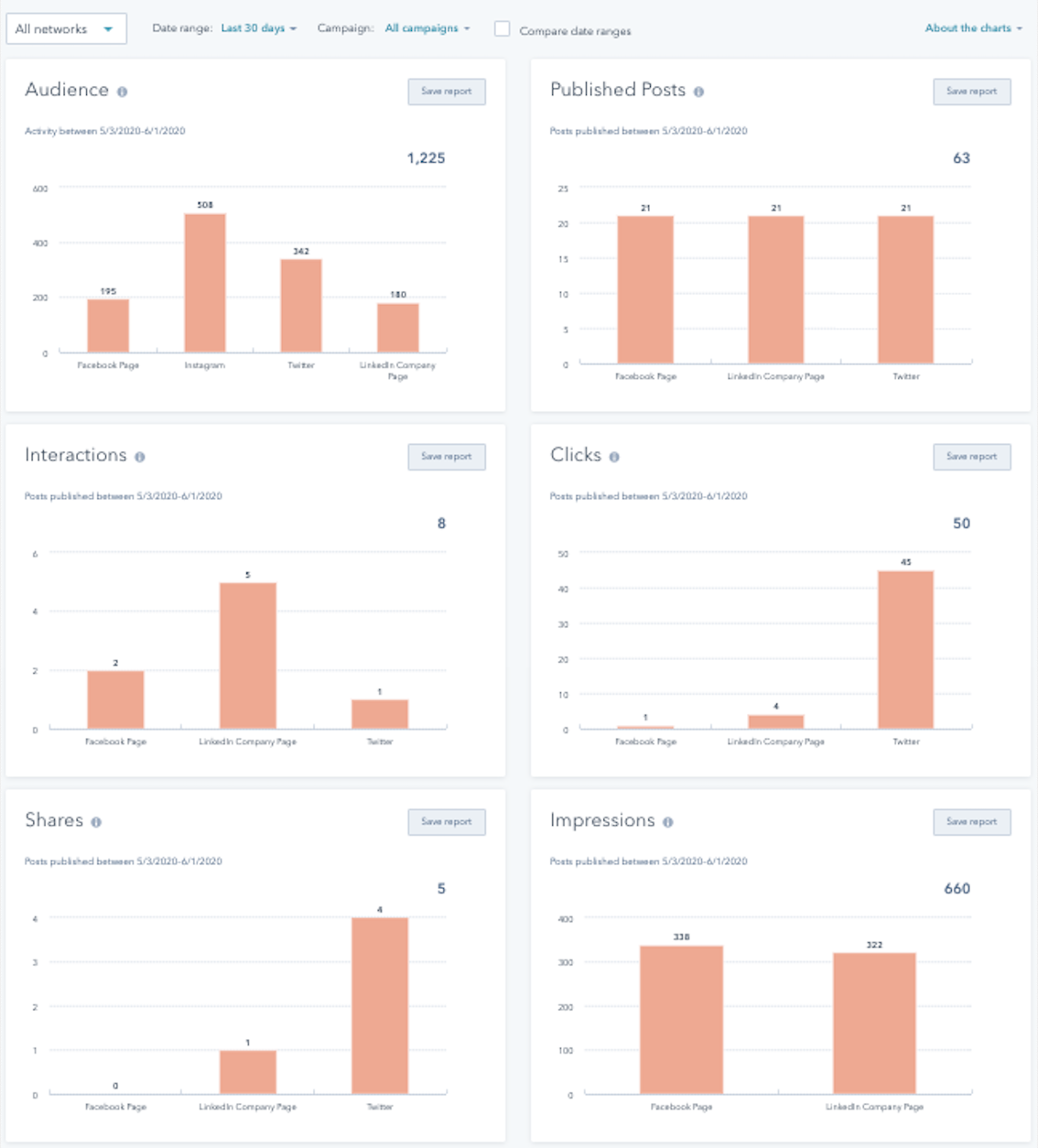 These reports allow you to measure what channels and content are performing best and calculate your ROI based on what metrics matter most to your business.
Maybe you're not convinced social media is worth the investment. Take a look at these stats:
In 2019 people spent an average of 2 hours and 24 minutes on social media every day.
What's more, is that 52% of online brand discovery happens in social media feeds.
These stats indicate that the majority of people are online and actively using social media to help make purchasing decisions. The question then becomes can we afford not to invest in social media marketing?
According to Facebook, split testing ads improves cost-per-acquisition by 72%.
The average Facebook user has clicked 12 ads in the last 30 days 😳.
HubSpot paid campaigns report allows you to report on the ROI of every paid campaign you run.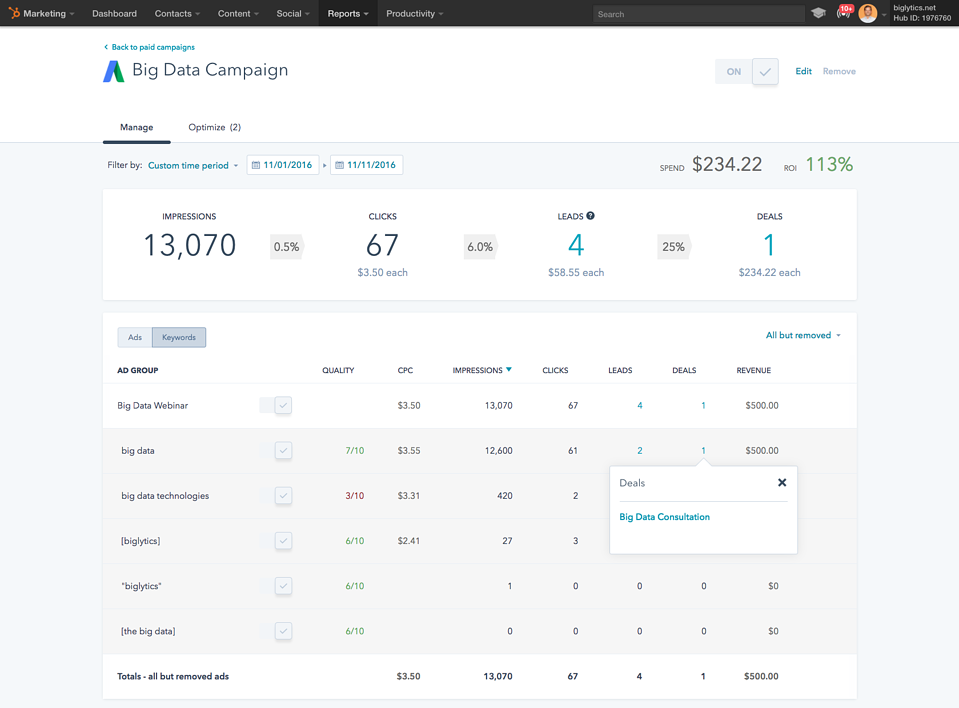 We have a more in-depth blog on the HubSpot ROI reports and their benefits to your marketing efforts. You can find that here.
Are you looking for a customer acquisition framework that will grow your business in a profitable and scalable way? We wrote an eBook to help you do just that. Click 👉 here to download the PDF.
Lead Generation
The HubSpot 2020 State of Marketing Report

,

indicates that lead generation is still a top priority for marketers globally.
According to additional research by HubSpot, 60% of marketers say their customer acquisition costs (CAC) has increased in the last three years.
A SEMRush study suggests that 67% of companies use lead generation as the sole metric to determine content success.
According to Marketo, only 4% of website visitors are actually ready to buy.
This stat speaks to different tactics you could use to convert those visitors into leads and, eventually, happy customers and promoters of your brand.
One of the tactics we like to use is creating landing pages to help build out relevant customer journeys with our brand.
HubSpot research

found that businesses that had 31 to 40 landing pages generated 7 times more leads than businesses with only 1 to 5 landing pages.
They also found that businesses with over 40 landing pages generated 12 times more leads than those with 1-5 landing pages.
Research by Eyeview suggests that by using a relevant video on a landing page you can increase your conversion by as much as 86%.
Here are 8 strategies to help boost your conversion rates.
Content Marketing
If you're looking to build a strong 12-month content marketing strategy, then download our strategy template, it comes complete with guide book and 12-month campaign planning templates. You can click here to grab your copy.
Reporting & ROI
Approximately 75% of marketers are reporting on how their campaigns are directly influencing revenue.
But less than 25% of marketers are reporting on how campaigns are directly impacting revenue.

HubSpot cites 52% of marketers are currently using attribution reporting to provide greater visibility into your marketing and sales activities.
Sales
Studies suggest that the use of marketing automation software on average helps increase sales productivity by 14.5%

This increase is important when you understand how salespeople spend their day. Here's a quick breakdown:

21% of their day is spent writing emails,
17% of their day is spent entering data,
Another 17% is spent on prospecting and researching leads,
12% of their time is spent in going to internal meetings,
and only 12% is spent scheduling calls.

If you're looking to boost conversion by up to 9 times, studies suggest you have a 5-minute window to convert them. All that time saved means speedier follow up times 🚀.
All those numbers are a lot to take in.
If you're anything like me, you may need a day or two to really let it sink in.
But here it is…
Marketing automation software is worth every penny of investment. It has the ability to streamline, automate and measure your marketing and sales efforts.
If you're looking for a team to help you get started with marketing automation, simply click the button below 👇 so that we can understand your needs in a little more detail.