Ah yes, a CRM strategy, the recipe for success in 2020, right?
Full disclaimer for those of us who waste countless hours binge-watching aspiring YouTube chefs… this recipe doesn't require any fancy bowls or extravagant ingredients.
In fact, whilst a CRM strategy exists to improve revenue, reduce customer acquisition costs and improve customer loyalty, there really is only one secret ingredient required to make it successful.
Putting your customers first.
Customers are (or should be) at the heart of marketing, sales and service strategies for every business. So creating value for them, during every engagement with your brand is essential.
In return, their loyalty helps grow your business and achieve its goals.
But providing value to your customers means understanding their needs and how they engage with your business.
There is, of course, no shortage of CRM software available on the market, all of which offer varying levels of contact and customer data.
Understanding that data allows teams to streamline, shorten and then scale their current sales processes.
Allowing data to drive decision making for businesses and teams going forward.
So if you haven't already implemented a CRM strategy for your business, here are some key things to consider including.
Goals, clear ones.
Strategies that don't have clear objectives and ways to track them, often fall by the wayside.
So assigning some measurable goals to your CRM strategy is always a great place to start.
But before you begin assigning goals, it may be worth digging up your companies business plan or annual objectives.
Your CRM strategy should be an extension of the greater business goals, ensuring they align with the overall strategy will key to ensuring your CRM is used effectively.
Common CRM goals such as increasing customer satisfaction, achieving higher productivity and efficiency amongst sales and marketing teams should all be measured against the greater business strategy.
Understanding your buyer's journey.
In order to improve relationships with your customers, you'll need to understand how they engage with your brand throughout each step of their buyer's journey.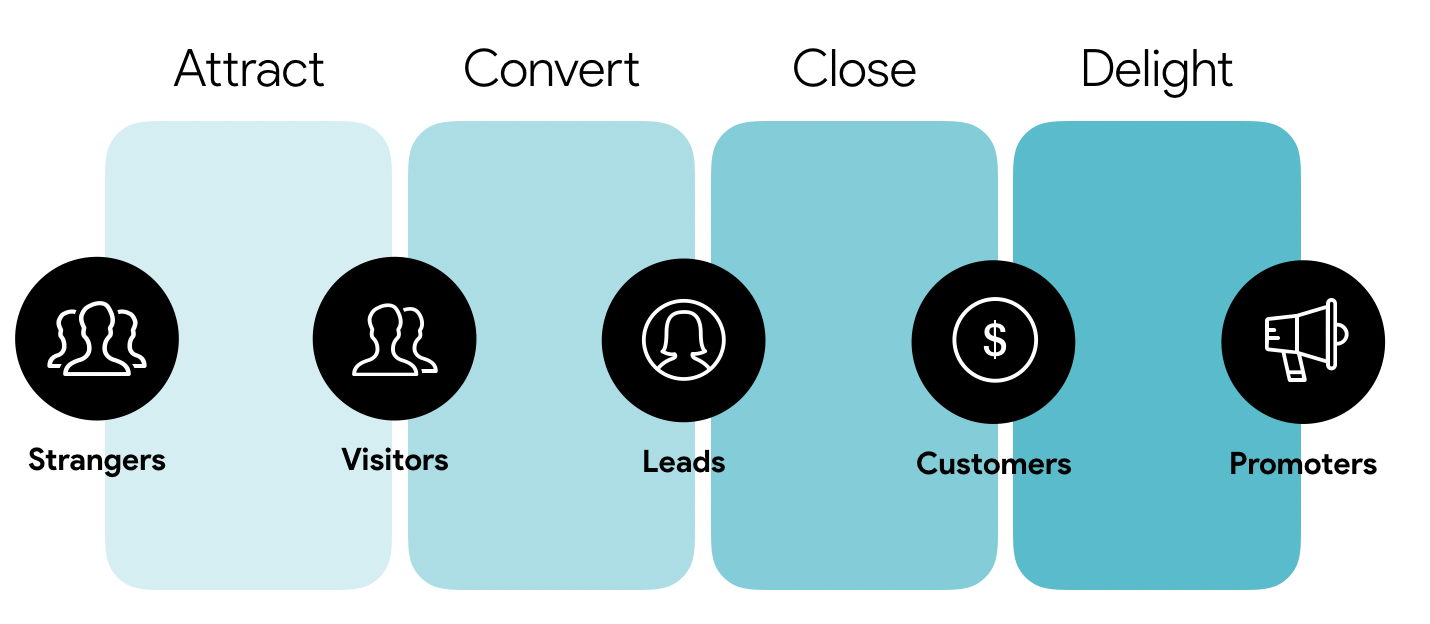 As inbound marketers ourselves, we focus on four key stages of engagement.
Attracting strangers to our website, converting them into leads, closing them as new business and eventually delighting them as customers.
By mapping each interaction a user has during those four stages along the way, from website views, email engagements, social media posts etc, we're able to understand a holistic view of their engagement.
That view allows you to make important decisions on where improvements in the process can be made, all through your CRM.
If you've already got a defined set of buyer persona's for your business, referencing that research against data that a system such as HubSpot provides, allows you to understand more about your customers.
Understanding what are their actual preferred methods of communications and platforms are, will help you determine whether or not there is a more effective way to get your message across.
Getting the most out of your chosen CRM.
Having invested in a CRM it probably goes without saying that extracting as much value as possible from it is important.
Systems like HubSpot are designed to be easy to use, whether you're a decision-maker, digital marketer, service consultant or in business development.
Ensuring your chosen CRM is effectively capturing contact information, and enabling effective and automated nurturing of your leads is crucial to a successful CRM strategy.
In HubSpot for example, we make extensive use of their automated workflows to help us effectively nurture leads.
This provides us with information as to how they're engaging with our content as we nurture them along their journey.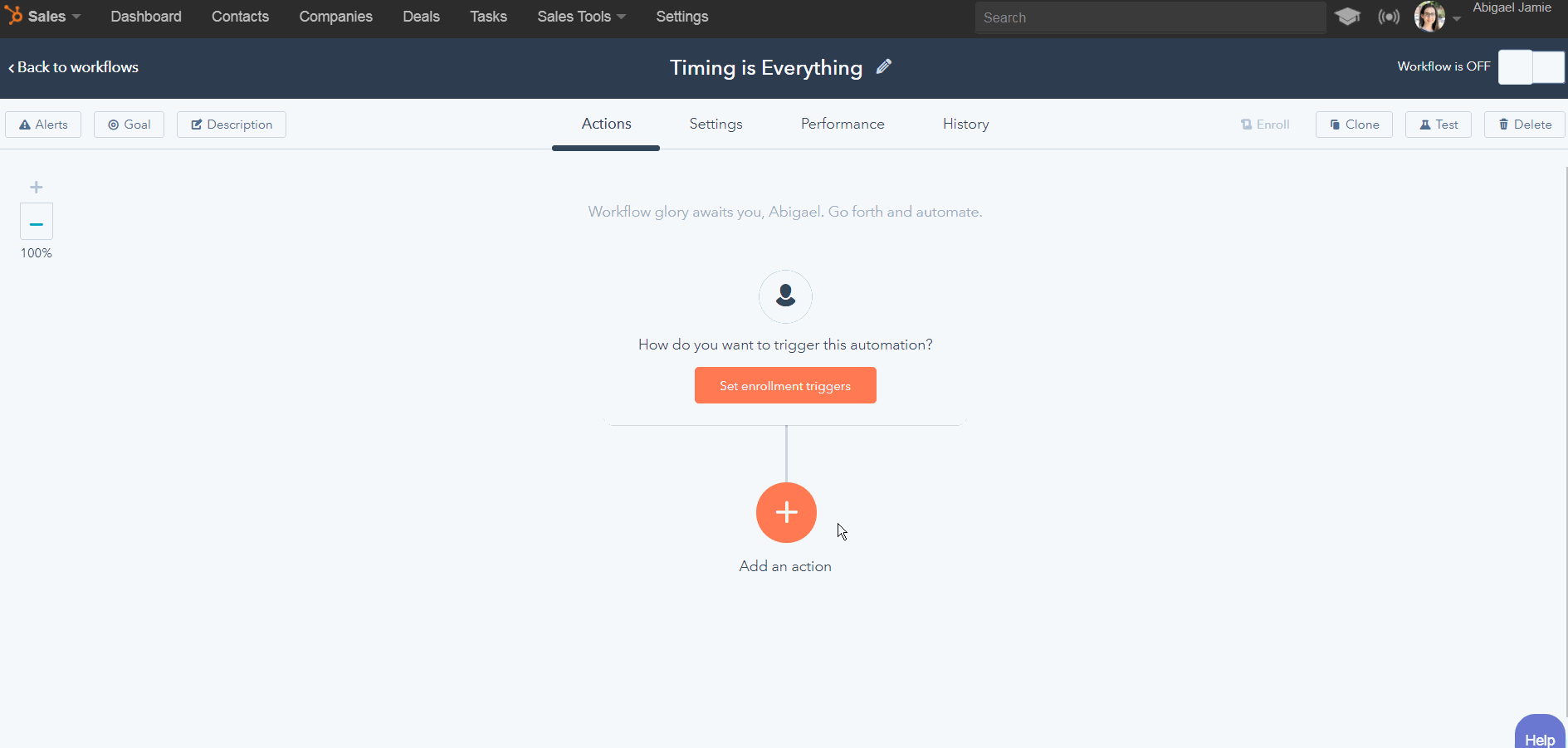 Our custom automated workflows allow us to provide useful, contextual content through email or even customised landing pages to each of our persona's.
These workflows can also be set to notify us each time one of our leads engages with content, providing valuable information about how our content is being engaged with by our audience.
Having a CRM deliver tailored, contextual content along each of our user's journey engaging with our business is key to our broader sales strategy and a great example of ensuring we're getting the most out of our CRM.
If your CRM wasn't important before, it should be now!
At this point, I'm sure you'll agree that an effective CRM strategy should be high on every businesses' list of priorities this year.
In fact, a 2019 report by Inc, found that businesses who had effectively implemented a CRM with a robust strategy to accompany it saw an average return on investment of between $2.50 and $5.60 for every $1 invested.
As attractive as those figures might be, the key to those returns is not just that a CRM is in place, but rather that there is a strategy supporting it.
It's no secret, that we use HubSpot for both our clients and our own CRM needs if you're not on HubSpot what CRM are you using?
Or, if you've got an interesting component of your CRM strategy this year, what is it?
Feel free to reach out via the link below, and let me know how your CRM strategy compares in 2020. 🕺