The world has gone digital virtually overnight.
And because of that, there are a whole host of apps, games and tools that are being offered to us at a fraction of what they normally cost in an effort to keep us healthy and engaged.
There are a number of businesses that are creating alternate versions of their tech to help match the needs that have come up due to the coronavirus pandemic that has swept the globe.
In this blog post, we're going to give you a list of digital products to overcome boredom, spark creativity and help you stay connected, albeit alone.
Let's get started:
Popular podcasts:
Living in Lockdown: The Corona Chronicles. This is being hosted on the Gareth Cliff podcast, he is no stranger to the South African public. In this podcast Gareth Cliff connects with South Africans to share stories of what it means to live in lockdown.
A uniquely local take on living with the pandemic in South Africa.
Reply all. The show is one that takes a look at stories about how people shape the internet, and how the internet shapes people.
There's no doubt that this is highly relevant, as people and businesses across the world are shaping and being shaped by the internet.
No such thing as a fish. This is a weekly British podcast series from the Quite Interesting (QI) offices where they spend time discussing the best things they've found out that week. It will form a roundtable discussion and information sharing session. It's incredibly informative and highly recommended.
This is an Uku favourite and has even played a role in inspiring an Uku Podcast - watch this space!!
Keep fit:
Kayla Itsinis. Two of the Uku's are on the high-intensity Kayla train and from their feedback it sounds epic.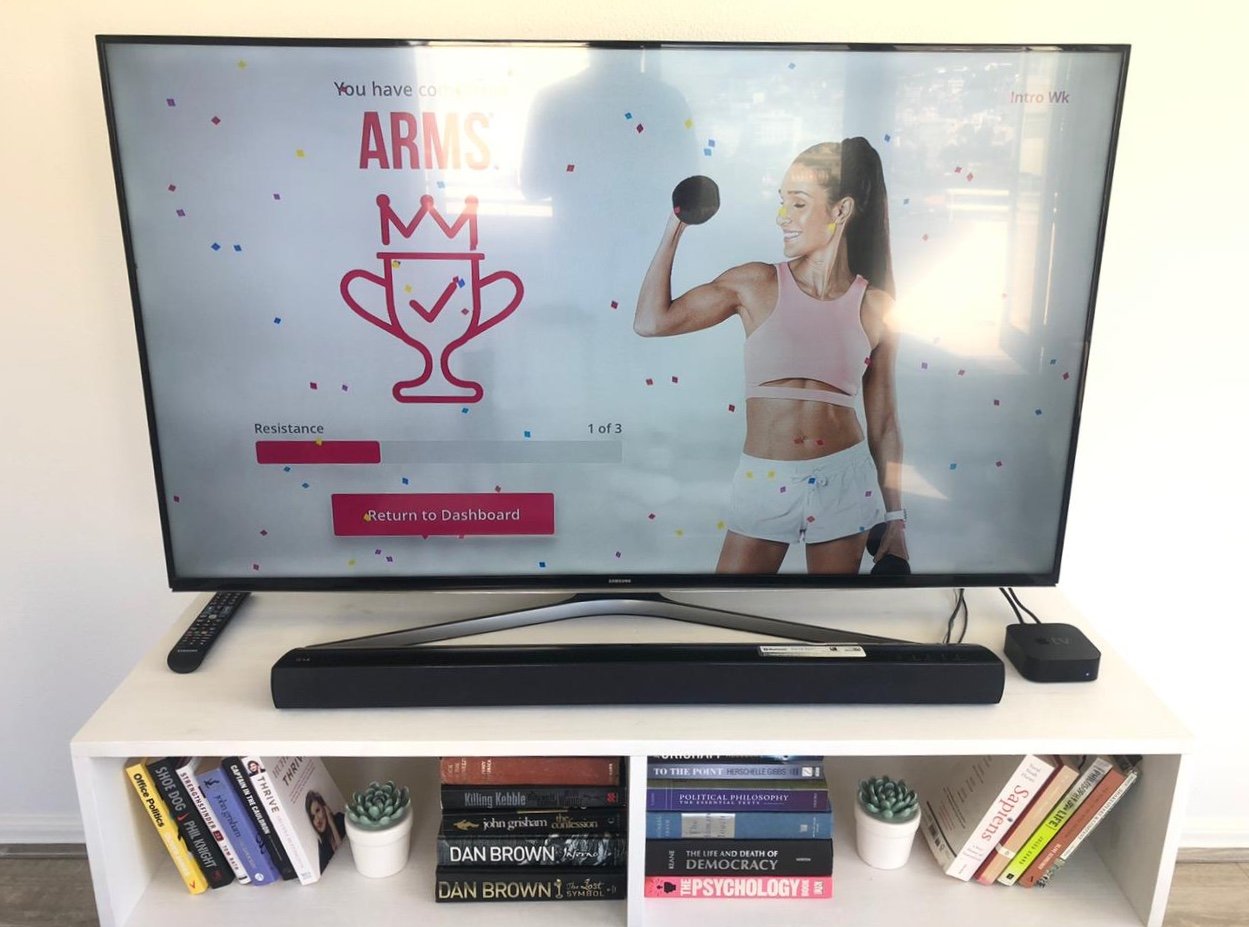 She is currently offering free access to her Bikini Body Guide (BBG) workout guides to help people stay fit at home. You will be able to access this workout guide on her app "Sweat".
This is a great way to ensure that you're releasing those endorphins to keep you happy, healthy and fit.
Yoga with Adriene. The other two Uku's are starting the day with some Yoga. This is one of most popular yoga channels.
She offers yoga for a variety of workout levels and as a newbie I have to say that each session with Adriene is amazing. I started with her 30-days of yoga journey and I'm having a blast.
Nike Training Club. They've made their premium version free to all consumers 💪.
Heidi O'Neill, the president of Nike's Consumer and Marketplace division sad this:
"During a time of adversity around the globe, we've had to adjust like so many others...One of the biggest shifts we've made is dialling up the strength of our digital ecosystem to help consumers maintain their physical and mental well-being while at home".
There are a lot of workouts to choose from and whilst it's all free we'd recommend jumping on board.
Conference Calling App's:
Houseparty app. This is a video conferencing app, that's growing in popularity amidst the coronavirus lockdowns many countries across the world are experiencing.
The app saw its daily downloads rise from 24,795 per day on 15 February to 651,694 on 25 March.
This app allows up to 8 people to chat together, the app also offers games and other interactive elements.
The app, however, has received their fair share of heat over the last week or so…
There have been wide complaints around other online accounts such as Netflix, Instagram and Spotify being hacked through the use of the app.
Houseparty has gone to Twitter denying these complaints and assures its users that the platform is safe to use.
Skype. Good ole Skype, the popular video conferencing app has been around for many years. But the way people are now using it is what we're most interested in.
Microsoft announced that Skype's usage has surged by 70% in a month to 40 million people presently.
People are not only using it to connect with colleagues, they're using it to connect and socialise with friends and family.
How many of you are using it to host dinners and do some serious catch ups?
FaceTime. This app is native to most Apple products and can actually host 32 people on one call 😳. I have to confess, I didn't know that. I personally prefer to use a better suited app such as Zoom for calls greater than 4 or 5 people.
But FaceTime is great and probably the only app my mom knows how to use 🙈. We've spent hours on a call and even share meal times using the app. It's a great way to stay connected with your loved ones.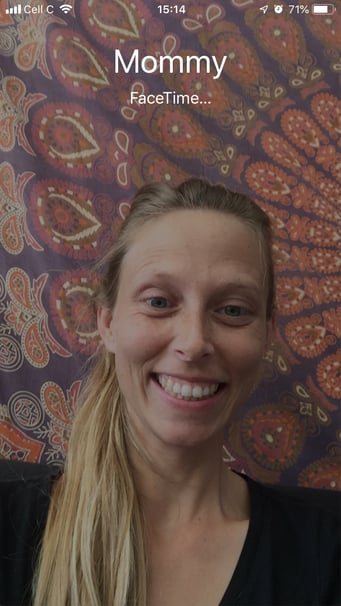 Zoom. Daily use of Zoom has skyrocketed to over 300%. In fact, a little earlier in March the app hit over 600, 000 downloads, their most ever.
The coronavirus pandemic has seen stock markets everywhere crash, but not Zoom. Their shares have soared this year and are now valued at $29 billion!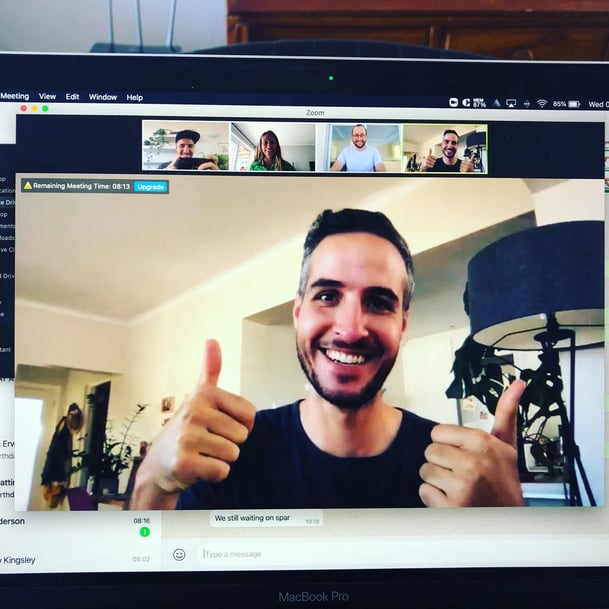 Businesses across the globe are using the popular conferencing app to connect with colleagues, friends and family and many are using it to run remote yoga and pilates workouts. It's proving to be a very useful tool for so many people.
Gaming apps:
Pokemon GO. Whilst this is traditionally played outdoors, Niantic has seen the need to stay indoors to keep people safe and healthy and has responded by creating a version that can be played indoors from the safety of your own home.
They also aim to add more social features so that you can play with friends and family even during lockdown.
Google's AR Animal Feature. This feature allows you to view and interact with a wide range of 3D animals. With so many children at home amid all the coronavirus news this feature allows you to search for an animal and select to view them in 3D and AR.
On your mobile device open up Google Chrome, type in an animal of your choice, in the knowledge panel click "Open in 3D" and you'll then be prompted to move your camera around your home.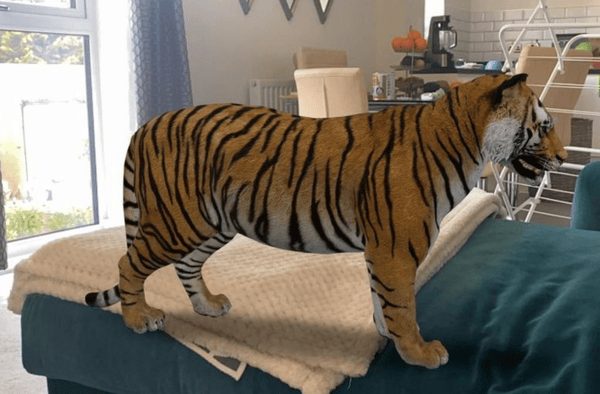 Virtual Grand Prix. While you can't play Virtual Grand Prix, you will still be able to watch your favourite Formula One racers take to the track, digitally, of course. This is set to take place until May.
Entertainment
Broadway HD. This is a streaming service for theatre fans across the globe, the company explained that "BroadwayHD was created with the goal of making high-quality theatre accessible to everyone globally". They're now offering a free 7-day trial of their service to help with those #lockdown blues.
So why not get all dressed up, make a snazzy dinner, pour a glass of your favourite and watch that play you've always wanted to.
Google's online Arts & Culture activation. So many people had to cancel their travel plans due to the coronavirus outbreak. Museums and theme parks across the globe are offering free virtual tours.
You can take a digital tour through Disney World to viewing art from Vincent van Gogh.
If you're experiencing cabin fever this is a great way of engaging in the arts and culture these institutions have to offer.
Wild Earth. This is the Kruger National Park's dedicated YouTube Channel. During our 21-day lockdown, they're filming two live game drives a day that we can all join.
This is especially great if you had a trip planned or wildly missing the outdoors.
Their game drives are streamed daily from 06h00 am - 09h00 am and again at 15h30 pm - 18h30 pm.
Or you can do what this family did 😂: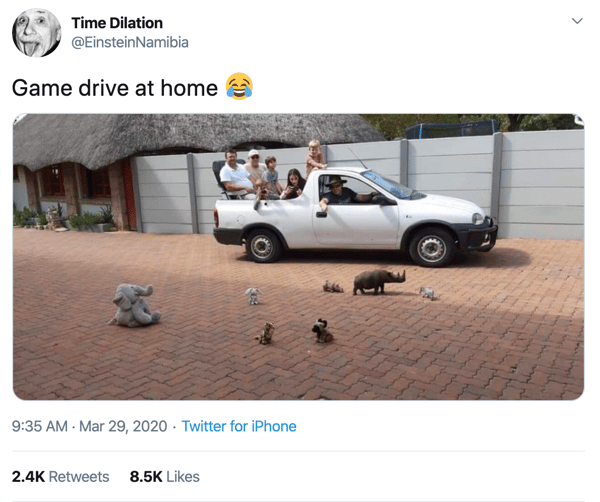 Don't you just love the creativity that can be found at every corner of the globe right now.
Instagram Live Videos. Live streaming on Instagram is booming during lockdown. In fact,
On the 29th March popular Capetonian musician, Jeremy Loops was meant to perform at Kirstenbosch Botanical Gardens. Sadly, this was not the case, but what he did do was take to Instagram and played some of his most popular songs from the comfort of his lounge.
So we took to our lounge and spent an hour being thoroughly entertained.
Thanks, Jeremy 👏it was fun.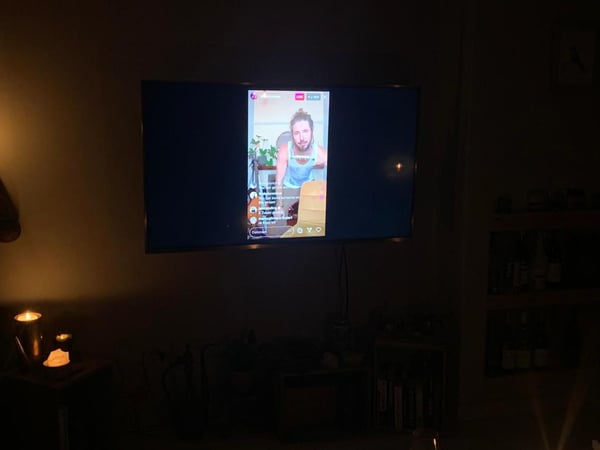 He's not the only one doing this, many celebrities and influencers are live streaming to ensure so many of us remain sane.
Netflix party. This is a free Google Chrome browser extension that allows users to watch movies and series together from different locations.
Video streaming services have seen an increase in daily usage since lockdown and Netflix Party allows you to add that social element to your favourite movie or series.
What we're taking away from our time at home.
The Uku's are a creative bunch of individuals and there are projects that we've been putting on hold to tackle other things that pop up. This time at homes has afforded us the opportunity to tackle these projects with a new found creativity, zest and excitement.
Together we've enjoyed some of the above apps to help keep us sane, productive as well as to keep us learning and engaged.
We'd love to know what apps and tech you're using to ward off the boredom and cabin fever that can easily creep in if you're not too careful.
In the meantime,, why not take a look at our content marketing strategy template? It will help you build a cohesive content strategy and stick to it. Simply click the button below to get your copy.