We have been using HubSpot CRM for a while and when we first started, we didn't have a lot of company.
Customer relationship management (CRM) software was pretty new to the South African market and most of them weren't that great to use.
Fast forward 5 years and that has changed significantly. CRM is now the largest of all software markets, according to Gartner, and South Africa doesn't seem too far behind.
According to builtwith, 1271 businesses in South Africa use HubSpot CRM, making it the most popular marketing automation tool in South Africa.
Two sectors have been particularly quick to adopt. Business services and industrial sectors make up 26% of HubSpot CRM users while 18% are in the technology and computing sectors.
So what has made HubSpot CRM so popular?
It probably has a lot to do with the fact that it is easy to set up, has a vast network of integrations, and the CRM at least, is completely free.
As the title of this blog suggests we wanted to see how South African businesses are using HubSpot CRM, so we spent some time searching and found our three favourite examples.
1. 10x Investments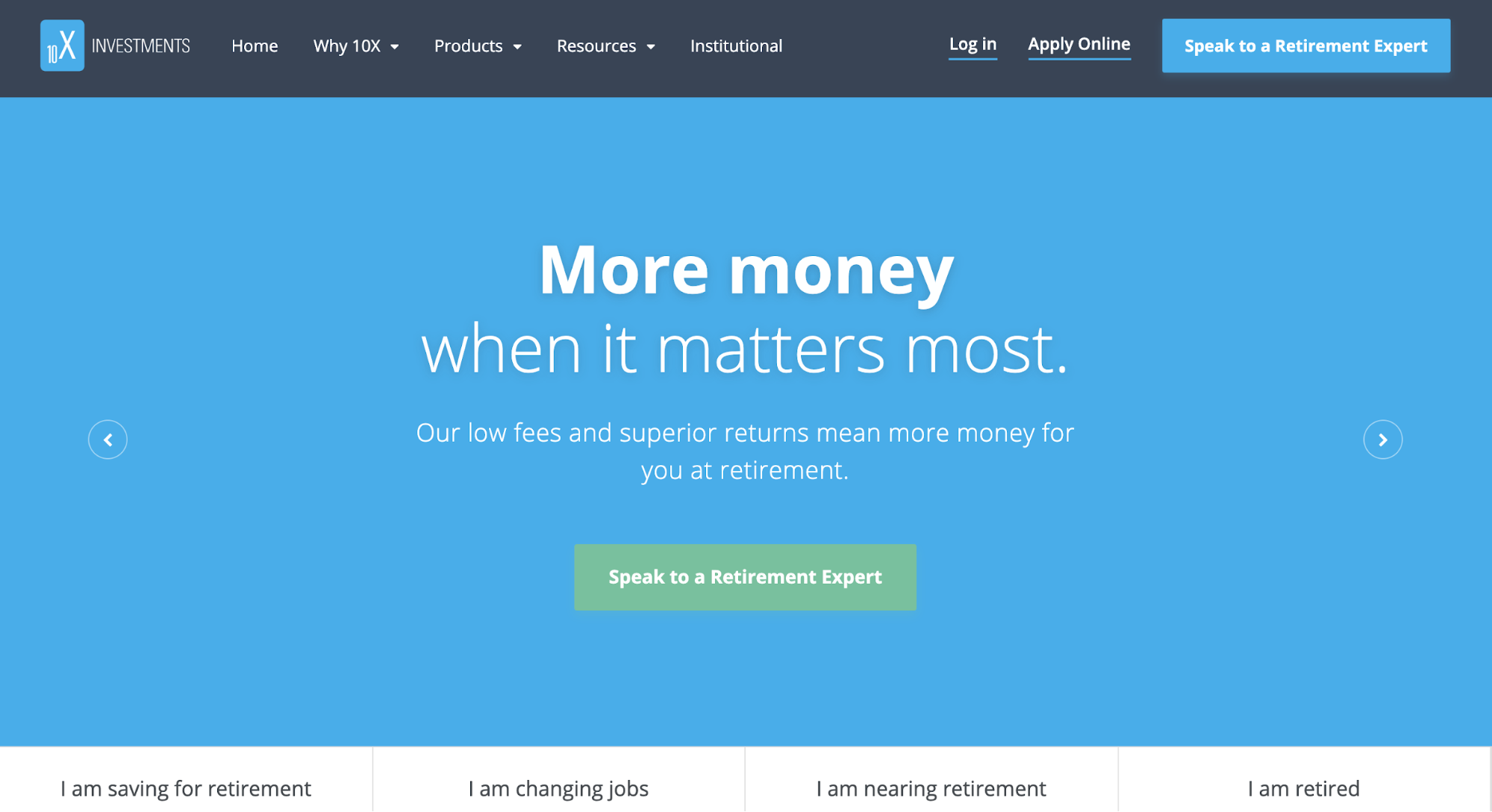 10x Investment is an investment fund manager that offers a variety of products from retirement annuities to unit trusts.
From their website you can see that they are doing a lot of things right.
Their design is modern and clean and most of their website avoids the use of jargon, making their message clear and simple for all their visitors to understand.
Let's dive into some of the things we love:
1. Choose your own adventure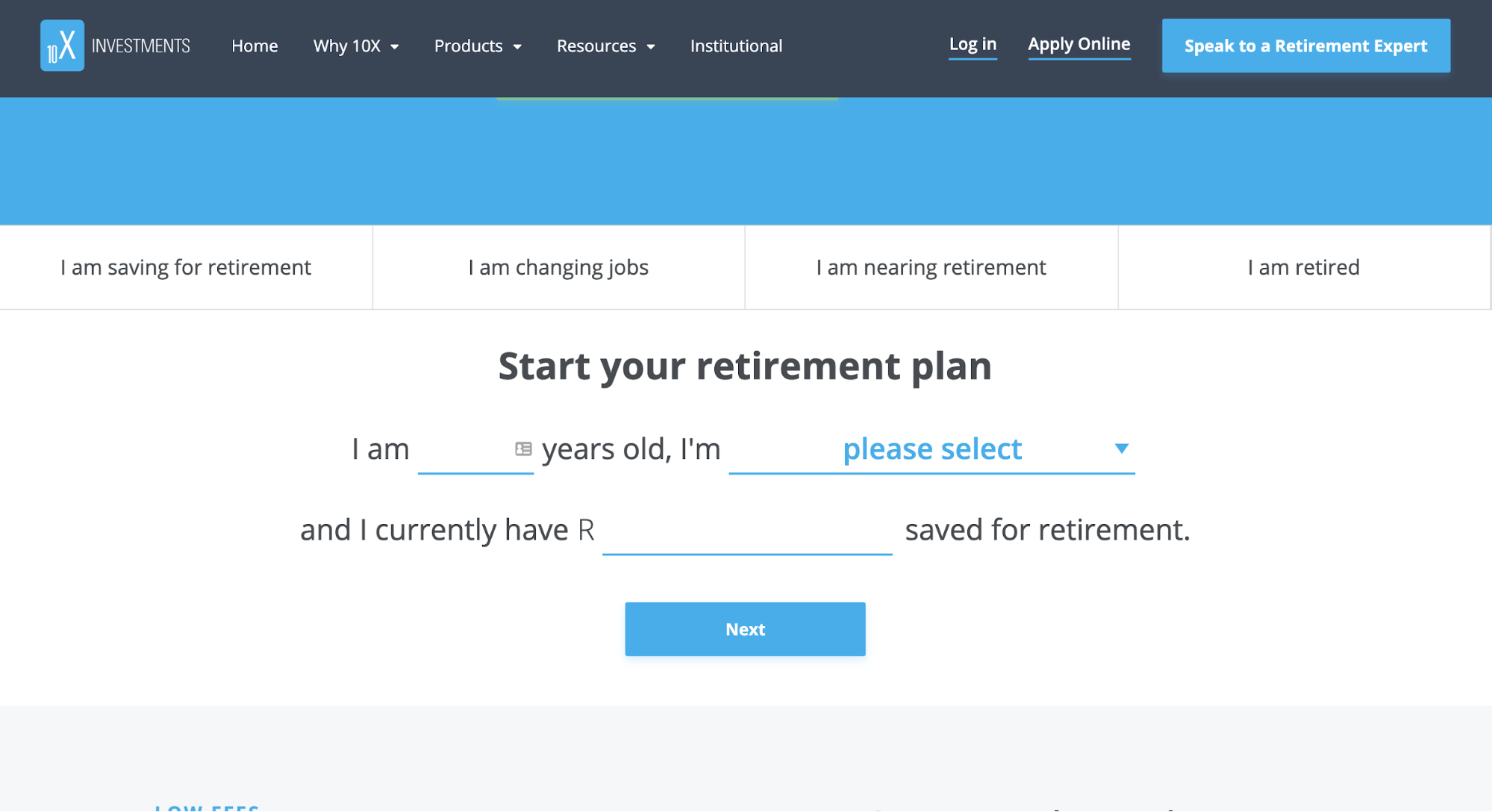 Choosing your own adventure is a technique used to make a website visitor's journey more relevant to their specific needs.
Instead of providing a single user journey where you dictate the actions a visitor can take, you create various user journeys and allow your visitors to decide which path they want to take.
10X have done this really well by creating 4 different journeys:
"I am saving for retirement"
"I am changing jobs"
"I am nearing retirement"
"I am retired"
2. Creating helpful resources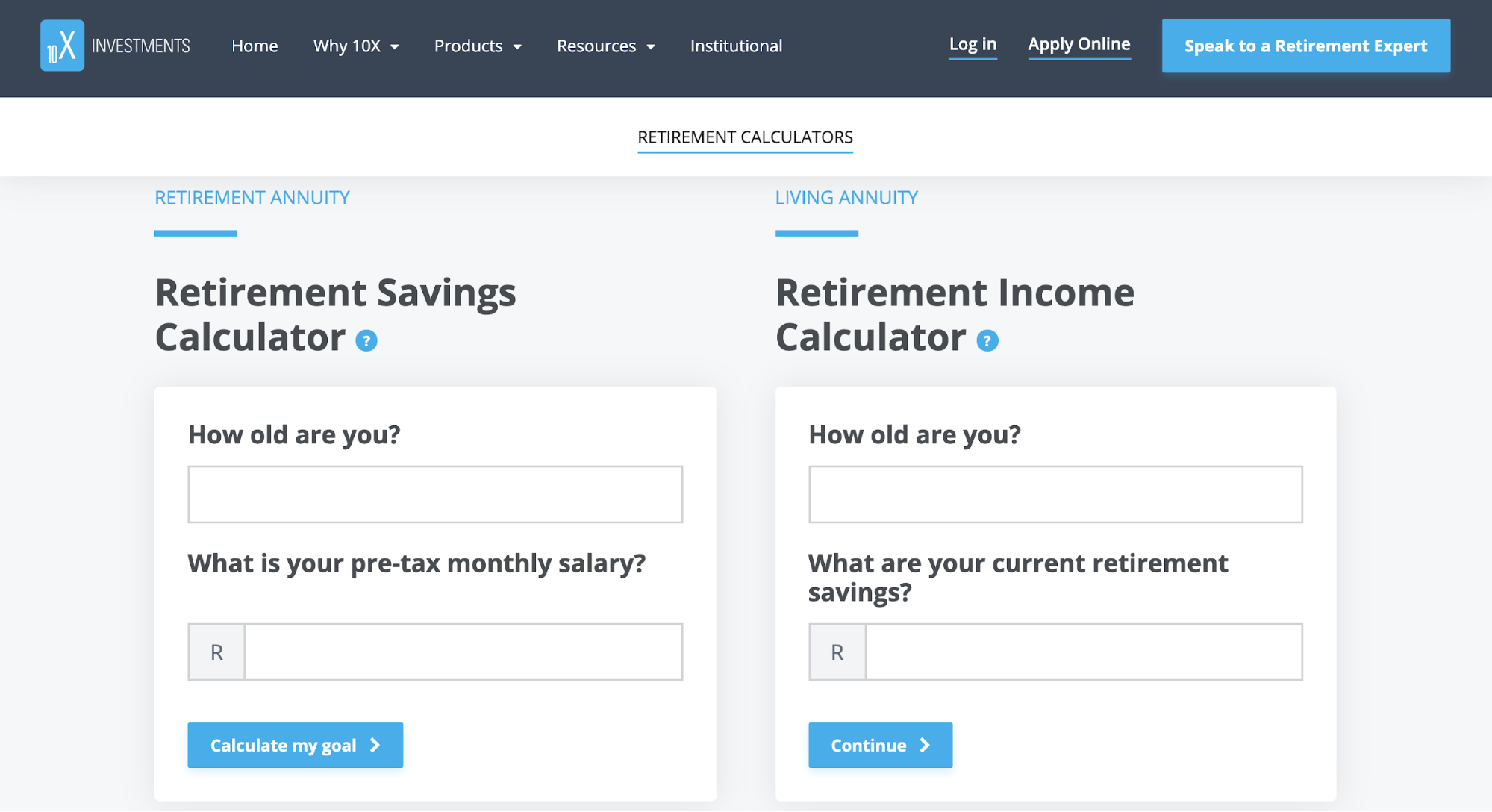 The foundation of inbound marketing is being a helpful resource to your visitors.
Creating free tools, templates, and ebooks improves your website's conversion rate, engages visitors early on in their buying process, and builds trust with prospective clients.
10X does this exceptionally well with a couple of free guides and calculators that their visitors can use.
3. Regular blogging schedule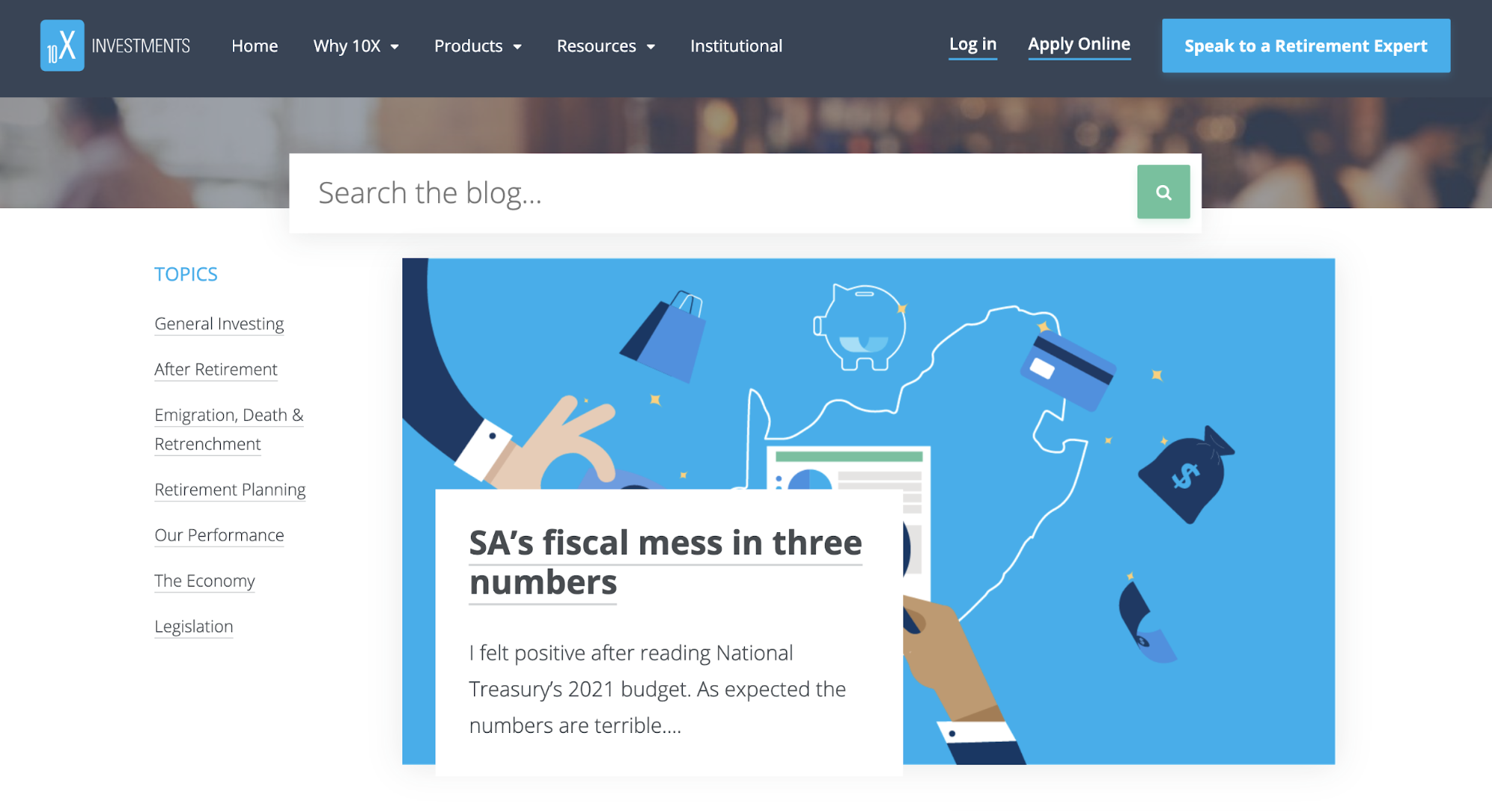 One of the easiest ways to tell whether a company is utilising their HubSpot CRM fully is by their blogging schedule.
Blogging boosts SEO, drives organic traffic, and provides additional resources for your website visitors.
From their blog, it is clear that 10X has spent time understanding the contacts in their CRM.
Their blogs are informative and relevant and take into account current events that their visitors might want more information on.
2. Babylonstoren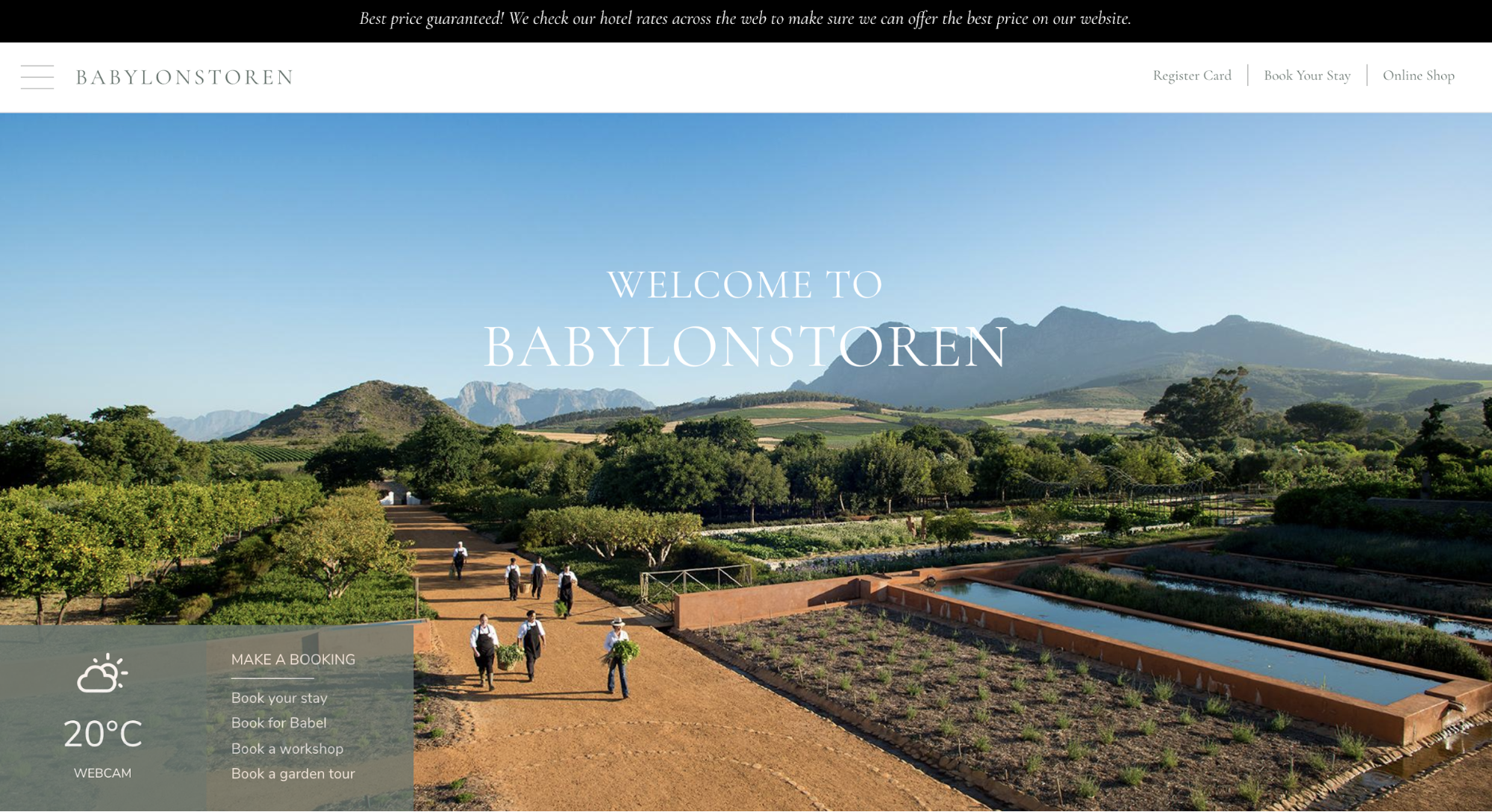 Babylonstoren is a beautiful farm on the outskirts of one of the premier wine growing regions in South Africa, called Franschhoek.
Their beautiful gardens are a big attraction for visitors but their farm also boasts a couple of restaurants, accommodations, wedding venues, and a shop to buy their olive oils and wines from.
That is quite a lot of activity to create a cohesive digital strategy around.
They have done well to keep their homepage concise, providing simple users journeys allowing users to explore their website.
Here are some of the things we love:
1. Excellent video content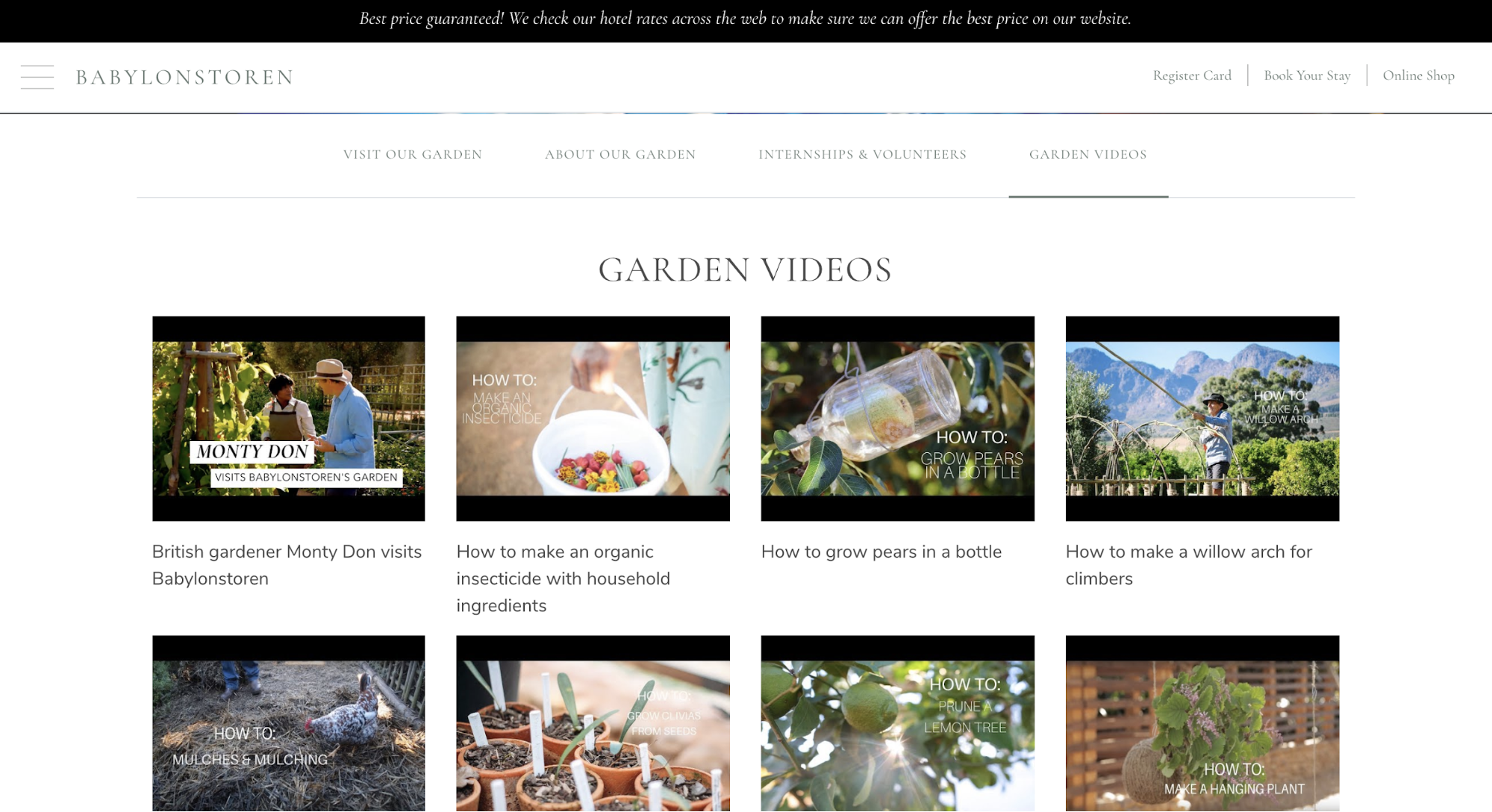 Creating content is easily one of the most challenging parts of executing an effective marketing strategy.
The type of content you create also makes a difference. Written content like blogs are easier to create but don't see the levels of engagement that videos do. According to Smart Insights, visitors will spend 88% more time on a website that has video content.
Babylonstoren has done well to create a series of high-quality videos to inform and engage their visitors.
2. Effective internal linking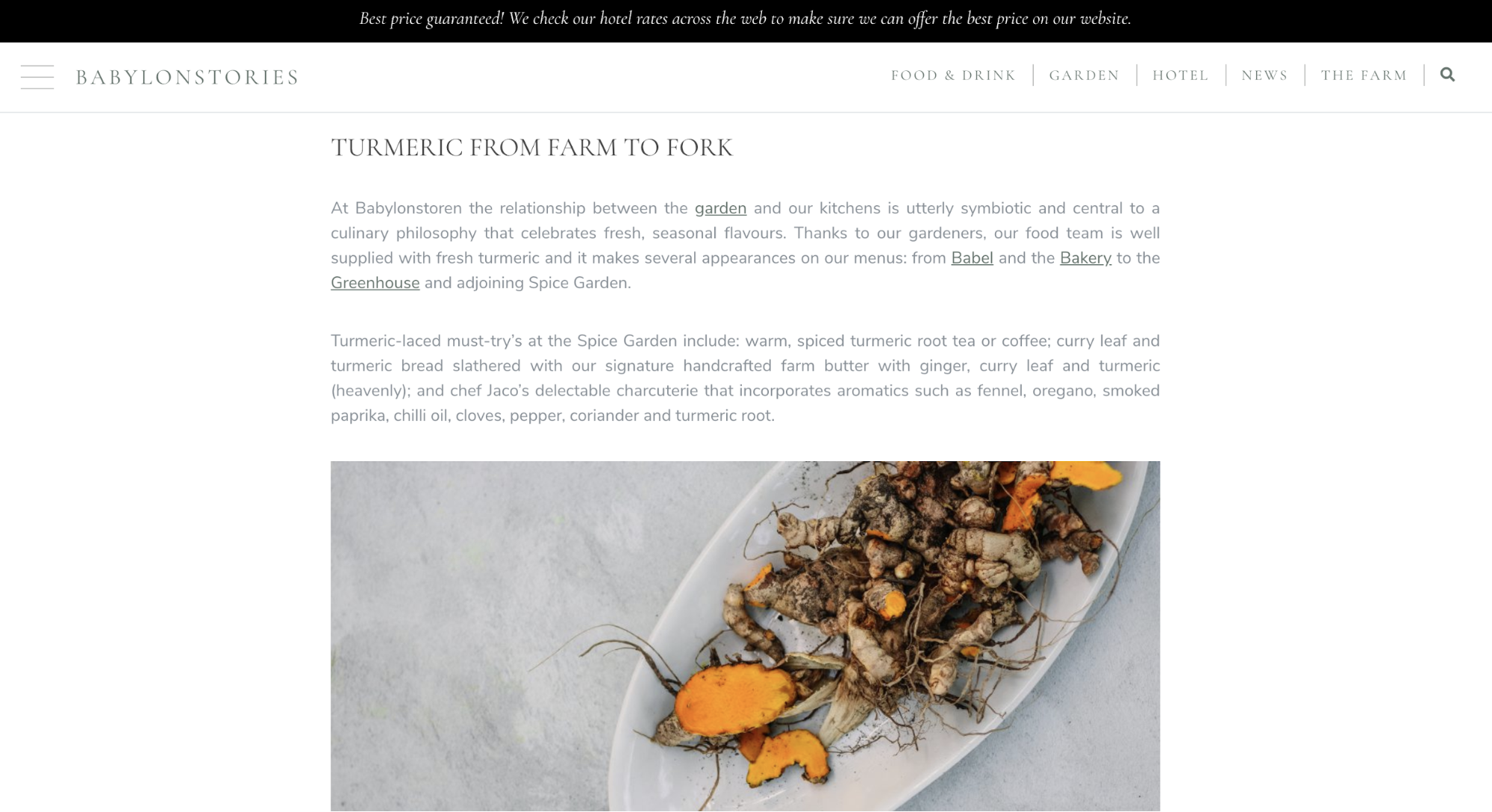 Most people think that backlinks are the most important for SEO growth but effective internal linking is just as important.
According to Ahrefs, internal linking can increase organic traffic by 40%. More traffic means more subscribers, leads, and customers in your CRM.
In the screenshot above, you can see how Babylonstoren are linking to their main pages i.e their garden and restaurants, indicating to search engines which pages to prioritise.
3. Attractive blog call-to-actions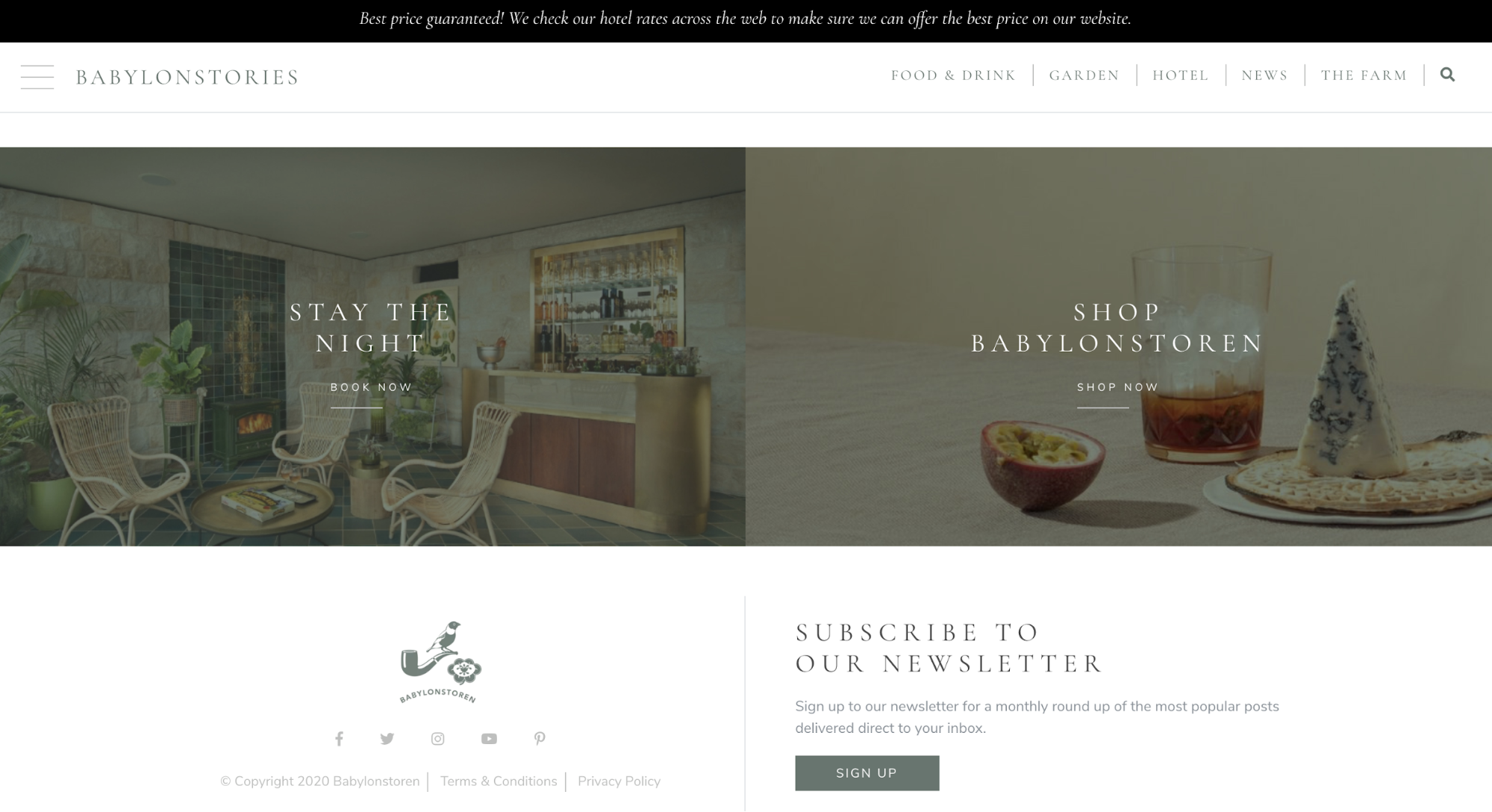 Creating clear conversion paths is essential to grow your CRM. The less obstacles visitors face when trying to take action, the better your website's conversion rate will be.
Babylonstoren features three separate actions that visitors can take after reading one of their blogs:
Book accommodation,
Shop from their online store, or
Subscribe to their blog.
Similar to the example of 10X, this allows website visitors to "pick their own adventure" and should improve their visitor to lead conversion rates while integrating all their activities into a single cohesive CRM.
bountiXP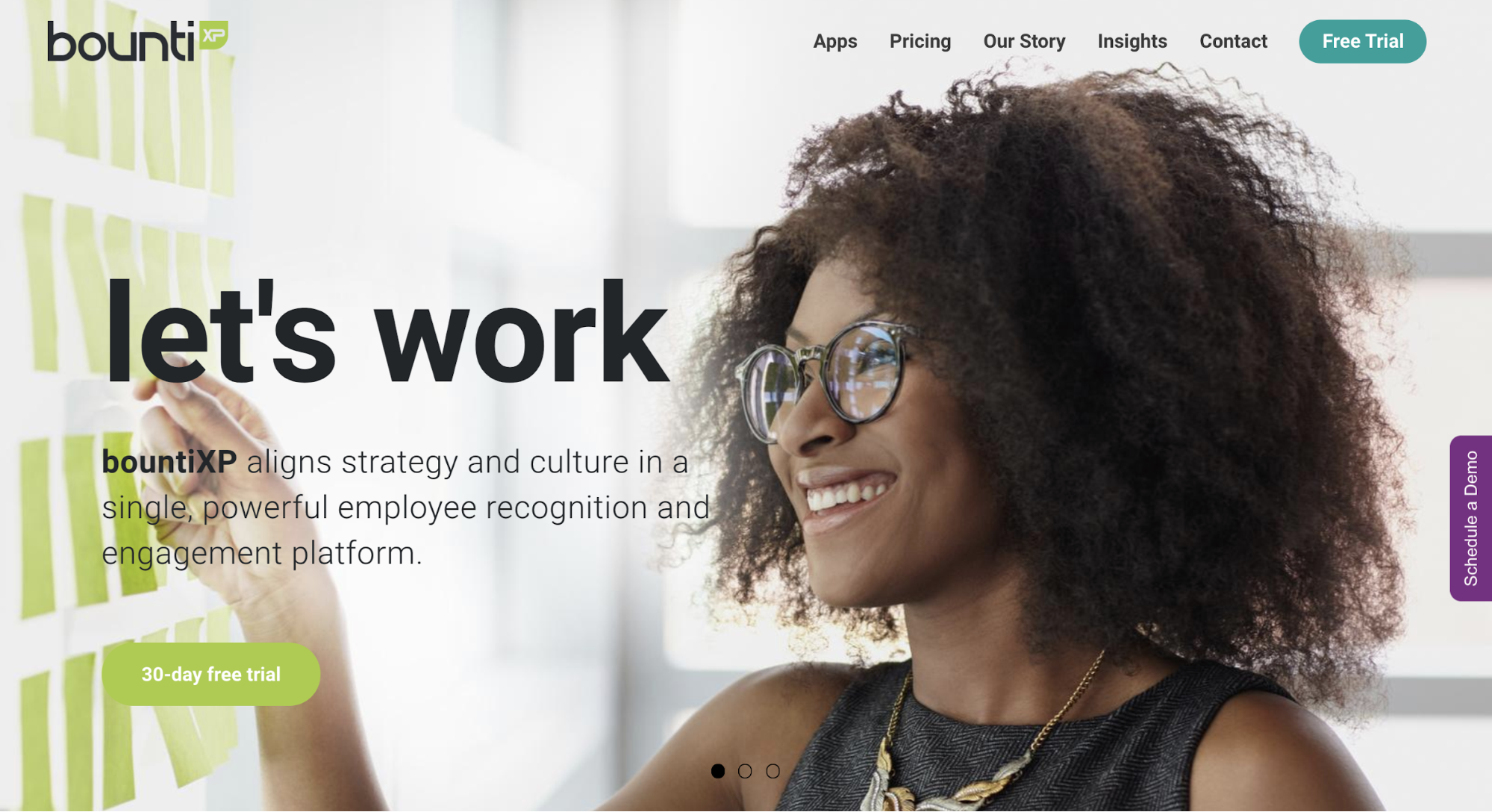 bountiXP is an employee recognition platform that makes it easy to recognise and reward employees.
Like most SaaS platforms, customer acquisition is mainly derived through two actions: scheduling a demo or signing up for a free trial.
Using the HubSpot CRM to understand user behaviour and optimise their conversion rates is an essential part of achieving success in the SaaS industry.
There is a lot to love about how they are using their HubSpot CRM:
1. Clear call-to-actions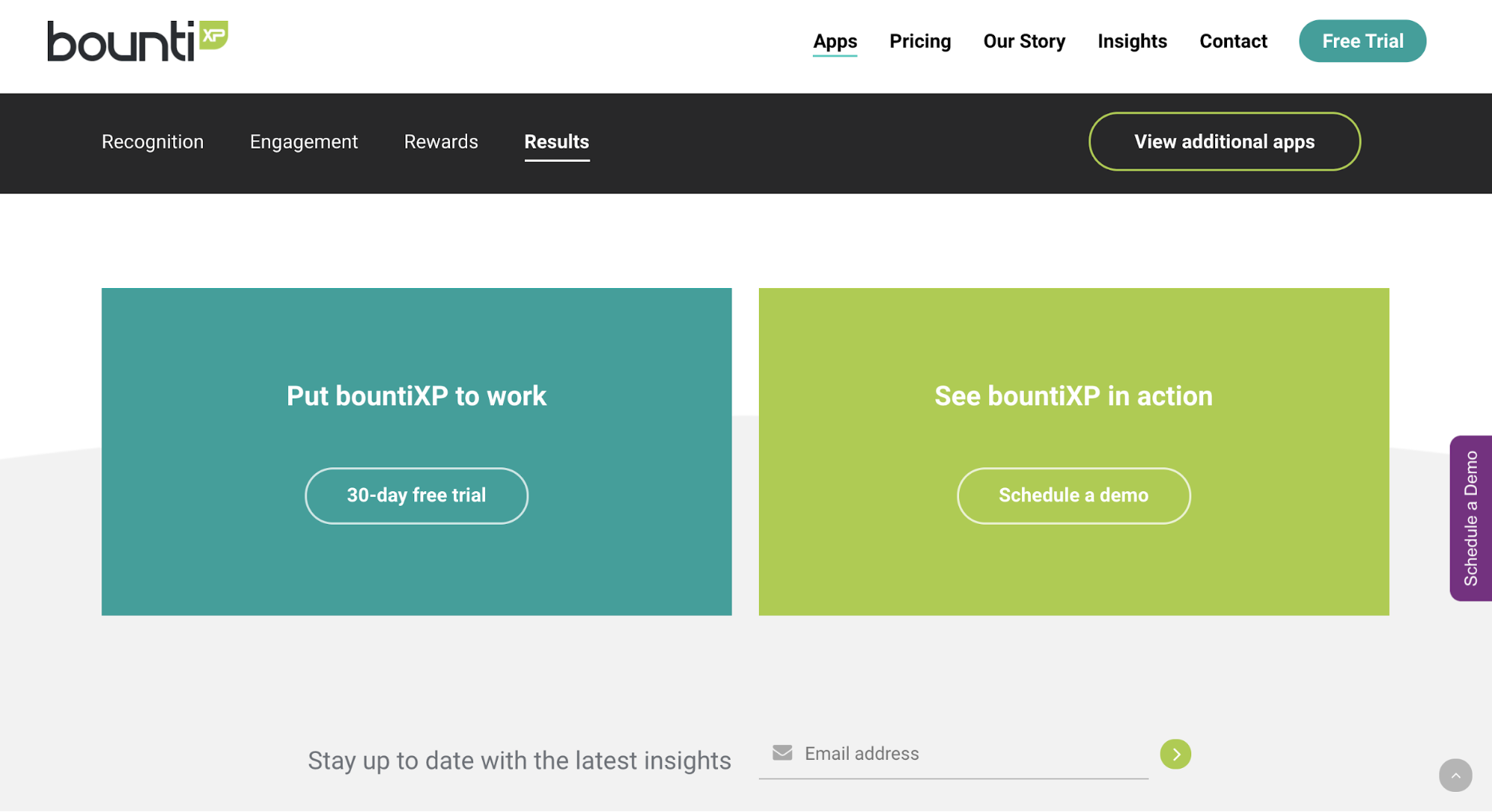 bountiXP effectively promotes their conversion paths by giving users a number of opportunities to convert.
They have included CTAs in their main menu, as a floating button in their side bar, and at the bottom of the page above their footer.
This re-enforces the actions they want visitors to take and makes it easy for prospective clients to do.
2. Landing pages for free downloads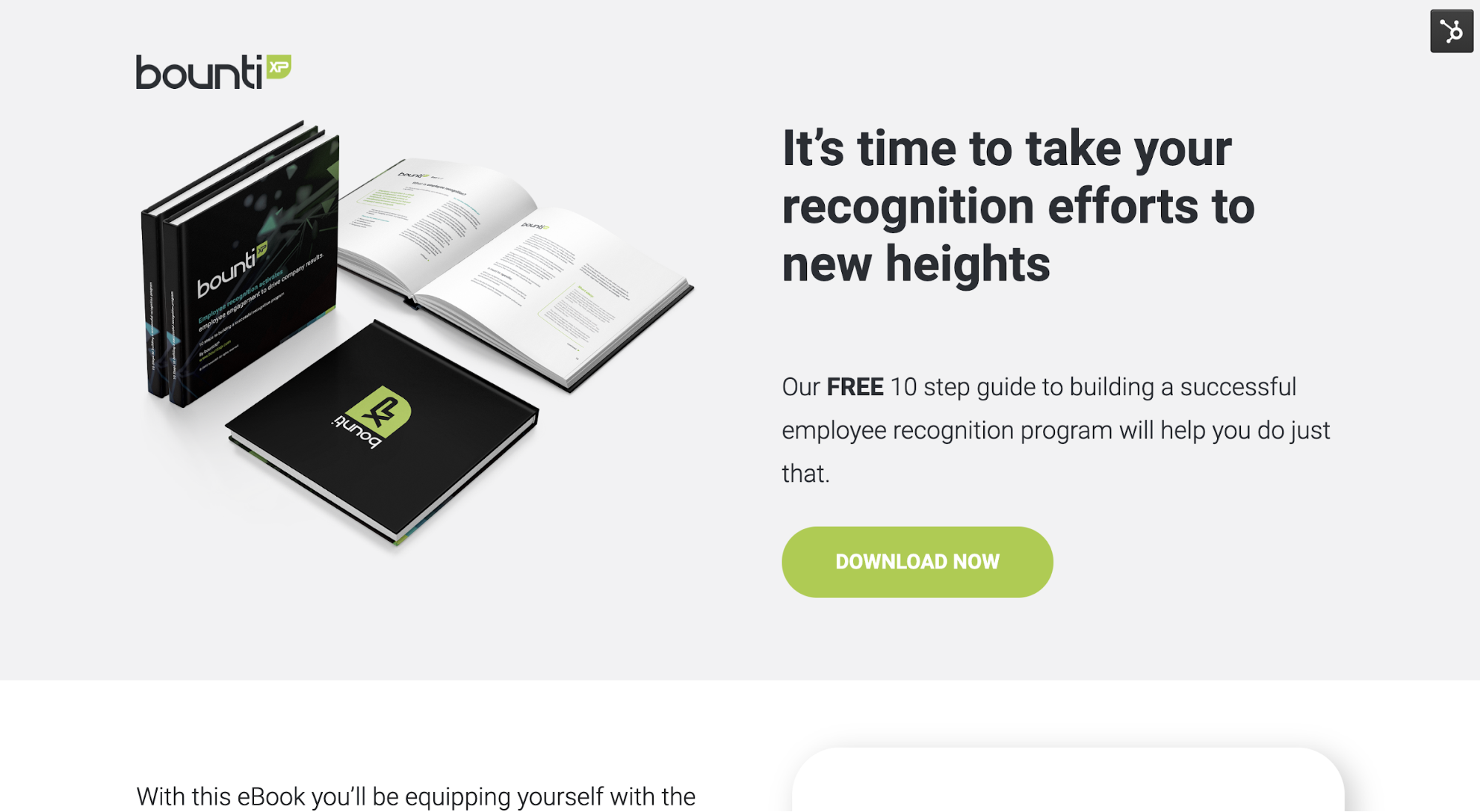 Landing pages are essential for boosting conversion rates. According to Wordstream, increasing the number of landing pages can increase your number of leads by 55%.
Better conversion rates mean more leads in your CRM.
bountiXP's landing pages have a clean simple design, dedicated to highlighting the features of their ebook and include a form to capture details of visitors who want to download their offer.
3. Pop-up promoting a relevant offer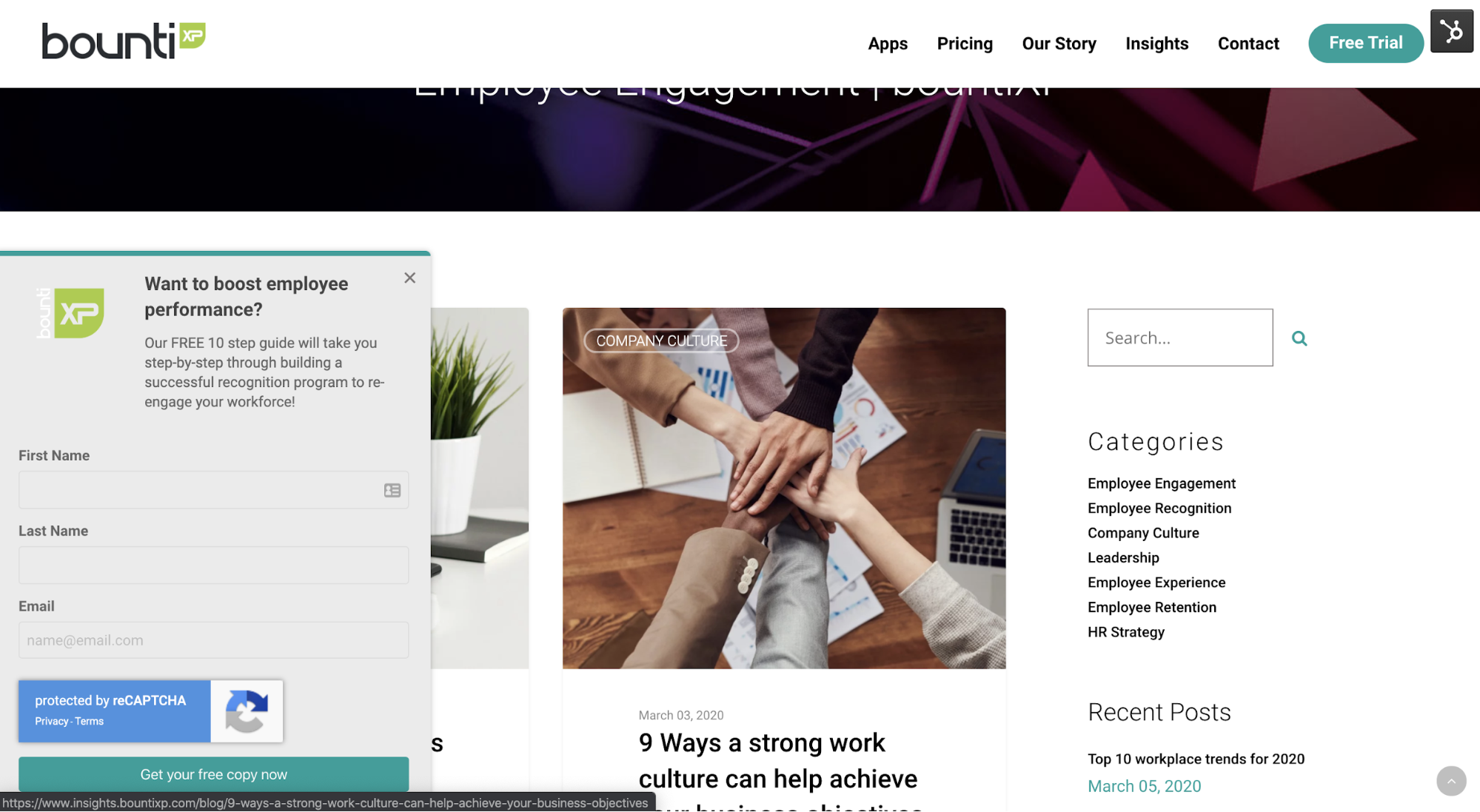 Pop-up forms are a great feature in the HubSpot CRM that offers an additional conversion point for visitors browsing your website.
bountiXP's pop up appears on their blog and would mainly be targeted at visitors coming to their website through organic search.
The design is clean and simple and incorporates the form fields, making it easy for visitors to convert.
Key takeaways
CRMs are quickly becoming a must-have technology for South African businesses that want to get better results from their digital strategies.
But it is important to remember that it's not the tool that matters but how you use it.
There are plenty of examples of how businesses in South Africa are making the most of their HubSpot CRMs and creating valuable opportunities to engage and interact with their visitors.
It all starts by understanding your customers and putting them at the centre of your digital strategy.
Want to get the most out of your HubSpot CRM? Start by creating great content using this template. It also comes with a nifty guide book to show you exactly how to get the most out of your template. Simply click the download button below to get your copy 👇