Search engine algorithms are constantly changing to make the process of search easier for users. Today our method of search is far more conversational, representing a more natural way to find the answers to some of our biggest questions.
This shift in search heavily influences our content and social media strategies. HubSpot has been at the forefront of that shift, making the process of content development a little easier for us marketers.
Enter HubSpot's SEO tool.
This tool allows you to visualise your content and internal linking strategy in an organised and structured way.
But why the shift from the content strategy tool to the SEO tool?
HubSpot is always making product updates to accommodate our needs.
This change, however, serves no other change than the tools name. I think this name change has caused some confusion, it sure did for me. This is what HubSpot had to say about it:
"No functionality is changing, just the name and the navigation. This change will help bring simplicity and clarity to the tool that helps you get more traffic from organic search."
There you have it. Now let's dive into exactly how to use the tool effectively.
6 steps to mastering the HubSpot SEO tool:
Step 1: Locking down that pillar topic
My assumption going into step one is that you already have ideas for your content strategy in mind.
Upfront I would absolutely suggest the use of more than just HubSpot's SEO tool to conduct your topic and subtopic research.
Best practice always recommends using more than one tool to verify your research. Here at Uku HQ, we recommend conducting further topic research using tools like SEMRush and AnswerThePublic. Both of these tools provide great visual references as you go through your creative process.
The HubSpot SEO tool will aid the construction of your research and ideas in a cohesive way.
This nifty tool also provides you with alternative topic suggestions (perhaps ones you've not yet thought of) based on monthly search volume and ranking difficulty.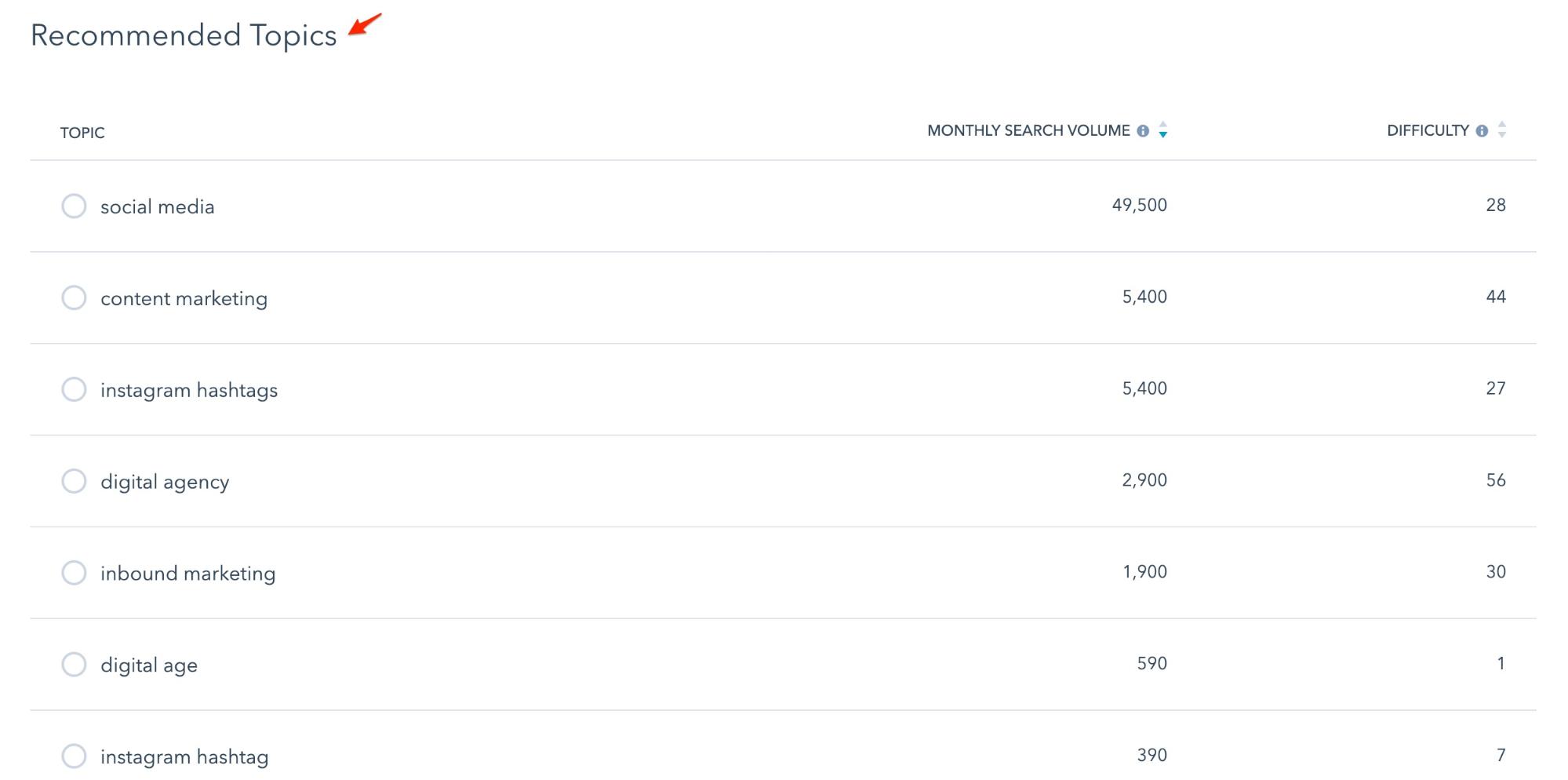 Step 2: Choose that pillar
It's time to make that oh-so-important decision...picking your pillar topic.
If your pillar page is already created, HubSpot will ask you to identify and connect the content page related to your selected topic.
It's important to remember that your pillar page aims to broadly cover a particular topic and is often much longer than blog posts.
Take a look at ours 👉🏼121 Digital Marketing Growth Hacks
Step 3: Add those sub-topics.
Now go ahead and start adding in those sub-topics. The tool will ask you to enter a keyword, when you do this it'll bring up your keyword and different variations of that word along with the monthly search volume.
What I really love about the tool, is how visually prompting it is 👇🏼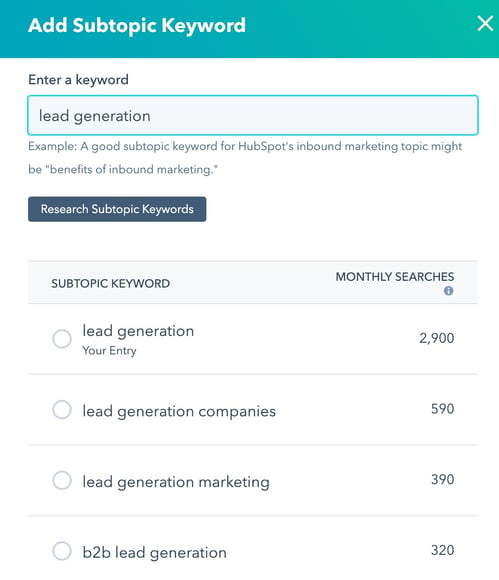 If you already have a published blog tackling the sub-topic then you will be prompted to link that post to your pillar.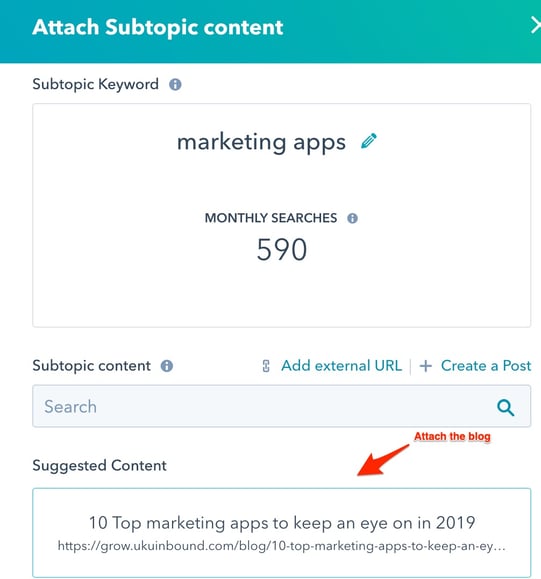 You don't only have to attach blogs, you can attach product pages and landing pages too.
Step 4: Link it up
Once you've selected your subtopics you will need to ensure that each subtopic page is linking back to your pillar page.
Take a look at the image below, the tool indicates that I have not properly linked my subtopics back to my pillar page, therefore it's showing a red line.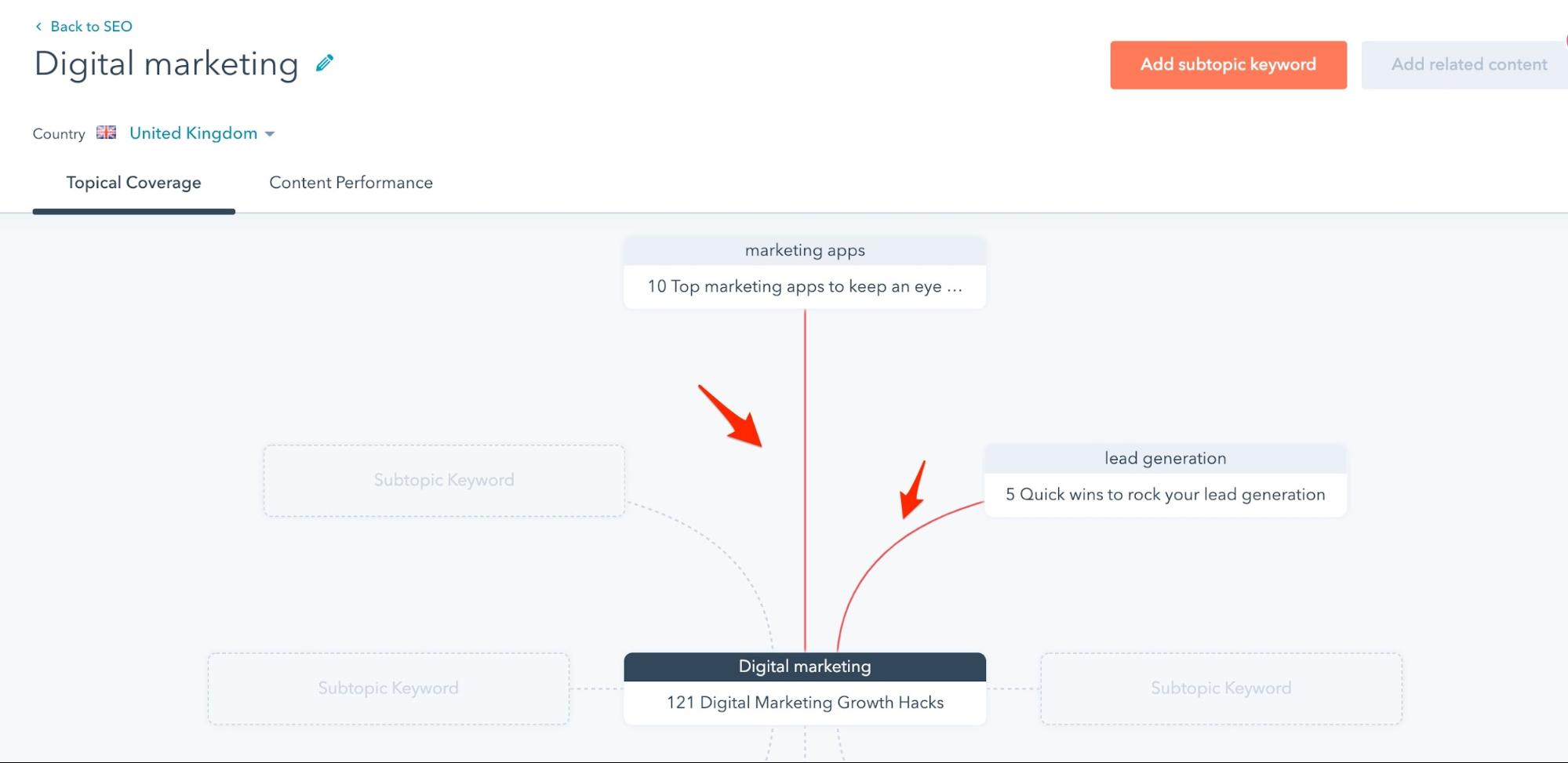 A correct hyperlink between your subtopic pages and your pillar page will show these beautiful looking green lines 👇🏼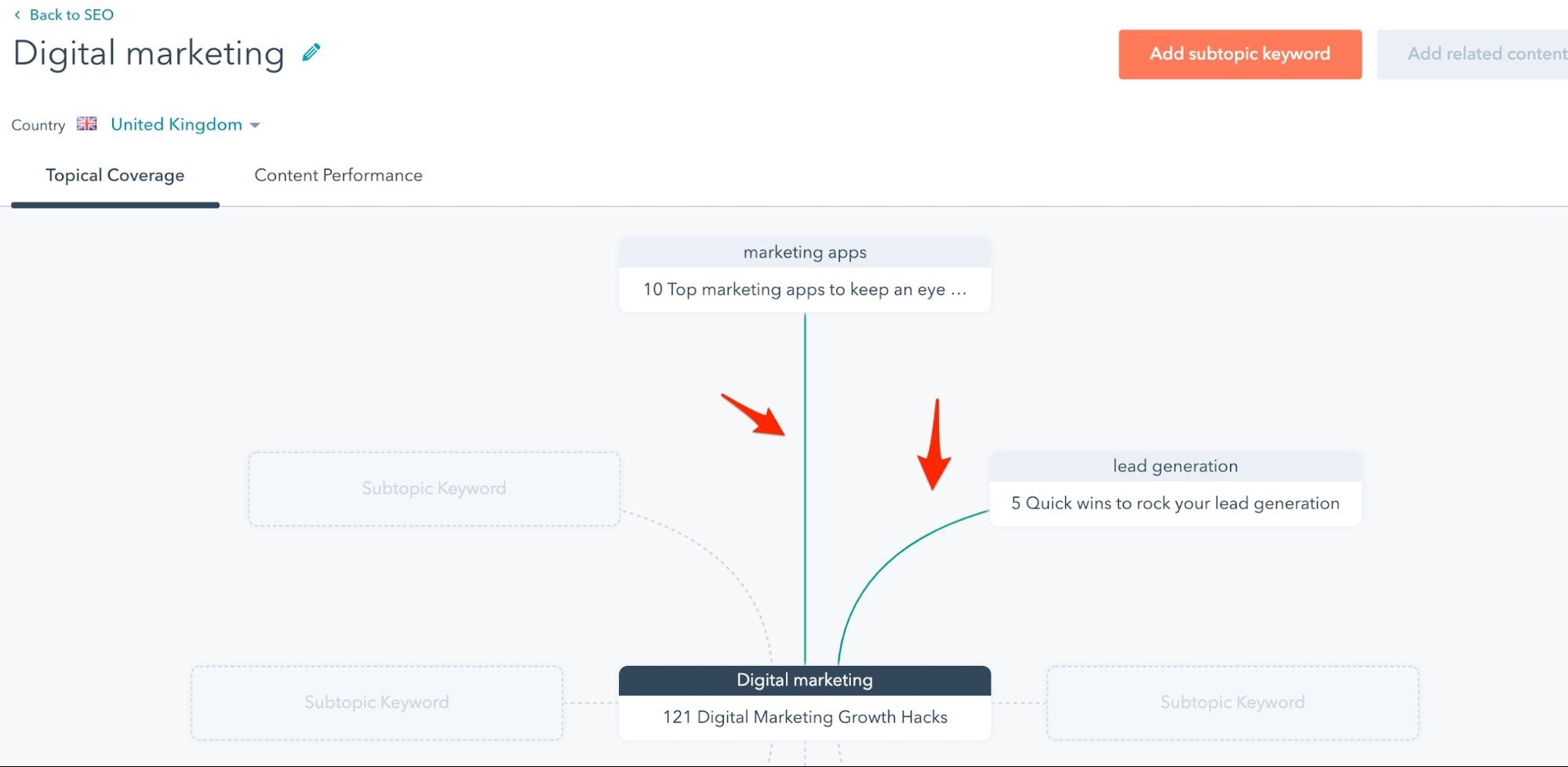 Step 5: It's time to analyse
Once you're all set up using the steps above, you'll want to start analysing your content's performance. Again HubSpot has made this a pretty visual and easy-to-use experience.
You will click on the content performance tab, this page will bring you to your pillar page and subtopic analysis page. The tool also allows you to custom select the date range you want to analyse.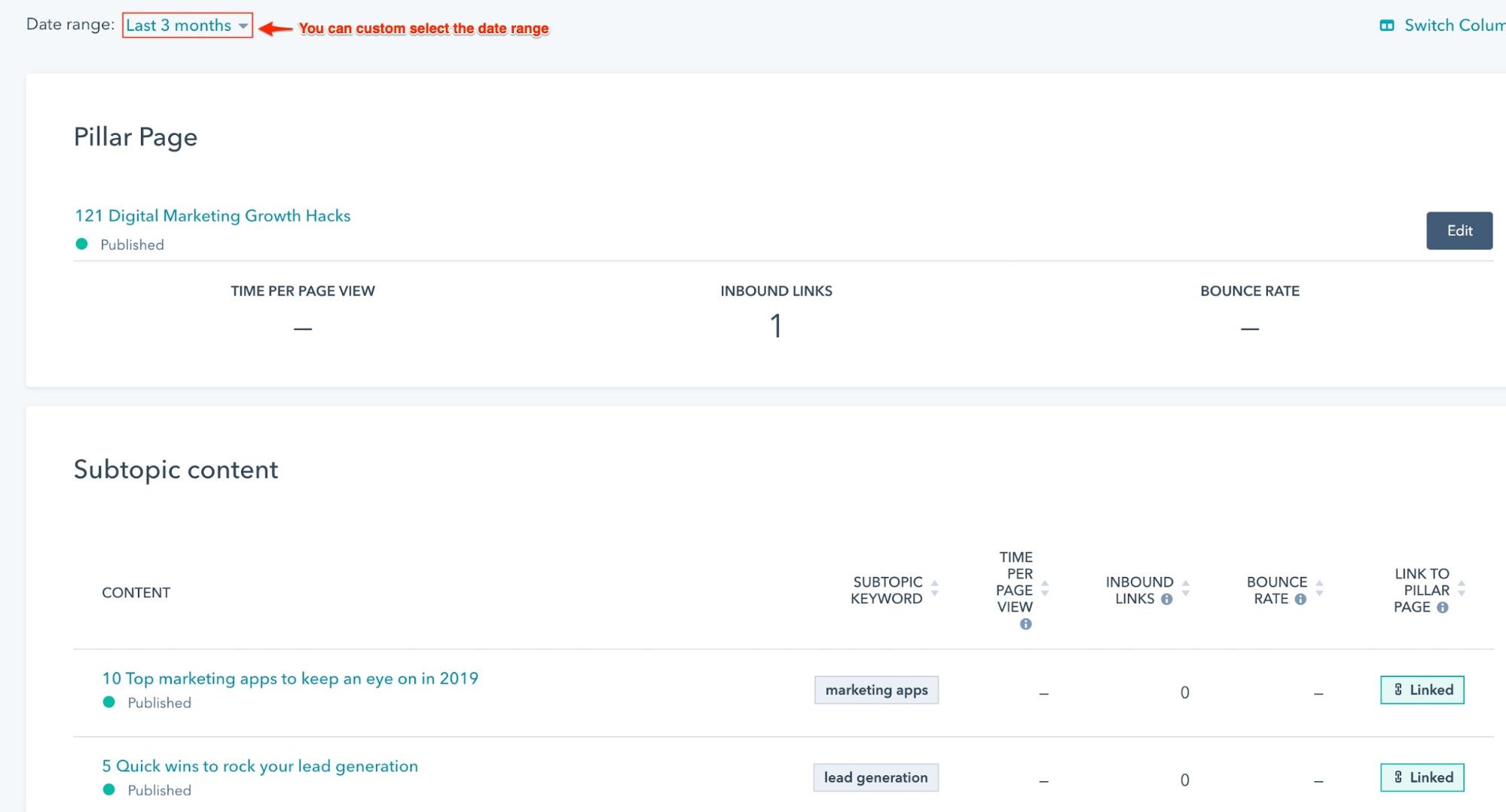 This data set is pretty nifty as it'll show you things like time per page view, inbound links, bounce rate and again whether or not your subtopics are linked to your pillar page.
As with any data, understanding what the numbers mean for your content strategy and being able to identify content gaps and unique opportunities for your brand are the kinds of things this tool will be able to show you.
Step 6: Build out that cluster
Over time the content you create should always link back to your pillar page.
Pro Tip: The SEO tool can only connect 20 pieces of content before the cluster is then deemed "full".
Pillar pages are hefty marketing assets and can take some time to complete - it's not always feasible to create many of them in a year. In that case, make sure all your blogs, landing pages and website pages boast great on-page SEO and have a backlink strategy to boot.
Key Takeaways
It's no secret that here at Uku we are massive advocates of HubSpot as the ultimate marketing automation software, their SEO tool matches those feelings.
HubSpot always strives to update their product to match the changing digital landscape we find ourselves in - the SEO tool is no different.
The tool allows us to identify what is and what isn't working for our own content strategy, and when effectively tied to campaigns we're able to track success as well as the ROI on our content marketing activities.
Do you have HubSpot, but could do with some help on how to optimise it for your business? Why not set up a time to chat with us below?