If your business offers a free trial or freemium model as part of your user acquisition efforts, then converting those users into paying customers is your main priority.
The purpose of offering a free trial/free version of your product or service is to give users an opportunity to "kick-the-tyres" and show them that your product or service is worth the subscription fee.
The key here is to create value. The more value you can deliver to users early on, the more likely they are to become paid users.
But before we get started it's important to clarify that offering a free trial is a completely different customer acquisition strategy to offering a free version of your product or service.
A free trial gives users partial or complete access to your product for a limited time, usually either 14 or 30 days.
A freemium model doesn't have a time constraint but only gives users access to certain parts of your software.
Although both these models impose limitations on the user, the type of limitation is important, and will ultimately determine what conversion optimisation tactics you implement.
READ: 5 WAYS TO INCREASE CONVERSIONS WITH YOUR CONTENT
In this blog, we will discuss the golden rule for converting free users into paying customers and outline a number of lead nurturing tactics you can implement to improve your free users to paid plan conversion rates.
The golden rule for converting free users into paying customers
This is easy.
GIVE THEM WHAT THEY CAME FOR. QUICKLY!
The goal for every new user (paid or free) should be to turn them into super users of your product or service as fast as possible.
That means providing every user with a proper onboarding to make sure they start using the features that brought them to your door in the first place.
Without proper onboarding, none of the optimisation and lead nurturing tactics we discuss further down will be effective so don't move on until you have a solid onboarding process in place.
Why is proper onboarding so important?
Here are a couple of stats:
77% of new users will stop using your product or service within 3 days.
60% of users who sign up for your free trial will log in once and then never come back.
More than 60% of SaaS companies experience more than 5% customer churn every year.
It costs 5-10 times more to acquire new customers than selling to your existing ones.
Existing customers spend on average 67% more than new customers.
Getting new users up and running as quickly as possible is the only way to ensure they hang around to become loyal, profitable customers.
Okay so now let's dive into the real reason you are here: how to convert free trial and freemium users into paying customers.
In a research paper published in the Journal of Electronic Commerce, they identified six primary factors that determine a users willingness to pay for an online subscription to a product or service: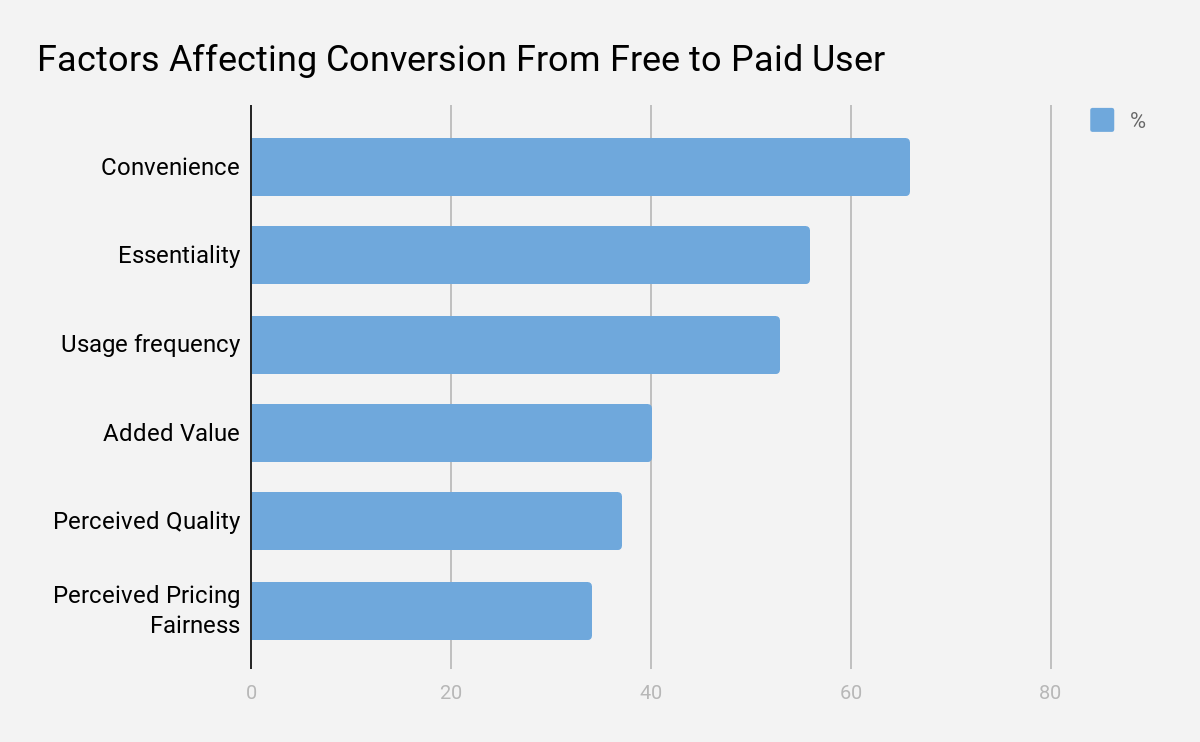 Let's take a closer look at each of these.
1. Convenience - Make it easy.
Convenience is the primary driver for determining whether a user is willing to switch from a free to a paid customer. 66% of respondents in the study said that convenience was an important consideration.
Consider how hard it might be for your users to do the thing they are trying to do without your product or service. It doesn't matter whether you produce specialised content like the Wall Street Journal or the Harvard Business Review, provide a productivity tool like Asana or HubSpot or deliver razors like Dollar Shave Club, your product should at its very core make life a little easier for your customers.
The easier your product or service is to use, the simpler it is to integrate and get started, the more likely your users will become paying customers.
Demonstrating how you make your users' life convenient should be the primary goal of your onboarding. Getting them to use your primary features and creating "aha" moments is pivotal during your onboarding process.
So how do you make your product or service more convenient?
Remove friction.
Analyse your processes and identify things that might be slowing your users down and make it easier. Perhaps you have too many form fields, or your navigation is complicated or integrating with other products and services is difficult. Whatever it is, simplify or remove it.
Ultimately, anything that causes friction and slows your users down will hurt your conversion rates.
2. Essentiality - Create a product or service essential to solving your customers' needs
Essentiality refers to anything that is critical for your users or their businesses. 56% of respondents in the study said essentiality affected their conversion decision.
Consider basic tools like email or instant messaging. 3.8 billion people use email while Gmail has over 1 billion monthly active users.
Pretty essential to the Google ecosystem I would say.
So while your product or service might not be as widely applicable as email, the key here is understanding what core features your customers can't live without.
Let's look at another example:
HubSpot is a world-leading developer of marketing software that does everything from marketing automation, email marketing, chatbots and live chat, to in-depth attribution reporting, email tracking, and social publishing.
READ: MARKETING MANAGERS GUIDE TO HUBSPOT
All those tools are great but at the heart of what they offer is something every business needs: a CRM (customer relationship management software) which they give away for free.
So why give away their most widely used feature for free you ask? Well, the answer is pretty simple. They know that their paid features are dependent on a CRM for their effectiveness so by giving users access to the HubSpot CRM for free they are paving the way for customers to upgrade as their reliance on the HubSpot CRM deepens.
3. Usage - Increase usage by focusing on customer retention.
Usage refers to how frequently your users use your product or service and the depth of their usage i.e the number of product features they use. 53% of respondents said that their usage of a product or service influenced their purchase decision.
We've already discussed the importance of providing each new user with proper onboarding so I'm not going to go on about how important it is to prove the value and utility of your product or service early on, even though Google agrees with me.
Instead, I am going to look at the advantages of customer retention vs. customer acquisition and the value of customer loyalty.
It costs roughly 7x more to acquire new users/customers than it does to keep them so while it's important to keep bringing new users through your doors it's even more important to ensure they stick around.
READ: 5 WAYS TO REDUCE CUSTOMER CHURN AND DRIVE SALES
Users that hang around spend more on your product or service. According to Adobe, customers that stick around generate between 4x - 7x more revenue than new users.
Not only is it more profitable to try and keep users, but their online behaviour is also habit-forming so the more they use your product or service, the more likely they are to return:
After 1st purchase: 27% chance of returning
After 2nd purchase: 45% chance of returning
After 3rd purchase: 54% chance of returning
Now that you're armed with the right stats we can start looking at ways to improve your usage so that free plan users turn into paying customers that stick around.
Great usage starts with an effective onboard (sorry there was no way to avoid bringing it up again). Effective onboarding has been shown to increase the

lifetime value of customers by 500%

.
Use push notifications to guide users to new or unused features. Users who have opted in to receiving push notifications exhibit 88% higher app engagement than those who haven't.
Encourage usage by offering incentives to returning users. Offering personalised rewards, specialised content, coupons, and special promotions will help drive conversions and encourage engagement.
4. Added-value - Ask your customers what they want.
The prevalence of digital products and services means that in order to convert free users, who can easily compare your offering with alternatives, you need to have differentiating features. 40% of respondents said that they considered the additional value offered by a product or service before converting.
It is important to state that added value is a quality that is perceived by your customers and will vary from customer to customer depending on the features they care about and what they are trying to achieve.
With this in mind, the starting point for creating additional value for your users, both paid and free, should be to ask them.
It might seem overly simple but gathering feedback through customer surveys is an enormously effective tool.
In a study conducted by HBR of over 2000 customers in the financial services industry showed that those that received a customer survey were 3x as likely to open new accounts. Surveyed customers were also less than half as likely to churn, and were more profitable than the customers who hadn't been surveyed.
The simple act of asking had the desired effect of improving the value of the products and services as perceived by their customers.
But you shouldn't stop there.
Translating customer feedback into features and functionality that enhance your core features, improve the customer experience, and provide tangible differentiators when compared to direct and indirect competitors will impact your users' willingness to become paid customers.
In 2017, Blue Apron, a meal-kit delivery business, became a public company off the back of over 100% revenue growth the year before. Although their top-line metrics looked good there were signs that their business wasn't as strong as their revenue suggested.
It was estimated that around 70% of Blue Apron's subscribers churn after six months, that their cost to acquire new customers (CAC) was rising rapidly, and that loyal customers were spending less, not more, than new customers.
Although their revenue growth was rapid, their marketing spend was growing even faster and as soon as they cut back on marketing spend their customer numbers went into sharp decline.
So how did they recover? They focused on creating value for their customers by offering more meal options, allowing them to create an unlimited number of meal configurations, and added flexibility with the number of meals customers could order every week.
The result of all the value-adding activities was an increase in customer retention and improved profitability.
5. Quality
Pricing has always been an indicator of quality with customers' willing to pay more for better products and services. In the survey, 37% of respondents said that the quality of a product or service impacted their willingness to become paying customers.
The quality of a product or service is not only measured between different products and services but also between versions of the same product or service.
Consider Spotify, the global leader in music streaming with over 180 million subscribers and 83 million premium subscribers. They've adopted both a freemium and free trial model, giving users a free trial to Spotify Premium after they sign up and once the trial ends allowing users who don't subscribe to Spotify Premium to keep using an ad-supported free version.
While it consists of the same music library, the same music recommendation algorithm, and the same search functionality, the interruption from ads, and reduced control functionality enhances the perceived quality of Spotify Premium when compared with the free version.
This difference in quality between the free and paid version has been enough to help Spotify achieve a 50% conversion rate of "engaged" users into paying customers.
To enhance the perceived quality of your paid version test variations of what is included in your free trial or free version.
By withholding certain features and functionality you can create a comparison that effectively illustrates the benefits of your paid version.
6. Pricing fairness
34% of respondents said that the perceived fairness of pricing affected their willingness to become paying customers.
Pricing strategy is a whole other topic that is too broad to cover in this blog so I'm going to focus on the Strategic Pricing Pyramid and its effect on converting potential customers into loyal ones.
The Strategic Pricing Pyramid defines five steps to create pricing:
Value creation - understanding the value your product or service creates for your users is the key to developing your pricing.
Pricing structure - this looks at how your prices are determined. Typically for SaaS businesses, there are four pricing structures to choose from: subscription-based, usage-based, free (advertising-based), or a combination of them.
Price and value communication - once pricing has been determined it needs to be effectively communicated to your users.
Pricing policy - this helps set expectations both internally with employees and externally with your customers. An example would be a policy that limits the maximum amount of discount your sales team could give or stating that subscriptions are paid annually on your pricing page.
Price level - this is where you set the final price of your product or service.


The biggest factor that mitigates price sensitivity is step 3, communicating the value your product creates for your customers.
As I mentioned in the previous section, there's a strong relationship between price and value. Clearly informing your users about your product's value proposition helps make your pricing acceptable. Fail to do this and you're setting yourself up for difficult price negotiations.
It's important to clearly communicate information about product features at different pricing levels as well as information about support services like integration support and end-user training.
Additional information in the form of case studies and reviews, from current and past customers, are also helpful resources to address pricing fairness in your customers' minds.
Let's quickly recap.
If you want to convert your free trial and freemium users into paying customers there are six factors you need to consider:
Make your product more convenient for your customers by removing friction.
Focus on your core features and make your product an essential tool for your users.
Give new users a proper onboarding and turn them into power users.
Conduct customer surveys and add value by turning their feedback into the features and functionality they are asking for.
Increase the perceived quality and value of your paid products by limiting the features and functionality during your free trial/freemium version.
Effectively communicate the value your product creates to help make your pricing acceptable and avoid difficult price negotiations.