In a densely populated digital environment, it's not enough to just write and publish content of any kind.
72% of marketers say content marketing increases engagement. What's more, is that 72% say it has increased the number of leads for their business.
So how then are you going to ensure your content has the best chance of performing well?
Well...it comes down to understanding your content data. And how that data has the ability to influence your strategy, lead generation tactics, and your brand growth and engagement.
In this blog post, we're going to unpack 3 ways to truly understand your content performance using Google Analytics.
Let's get started:
1. Traffic
I think we all have at least one simple goal in mind. To increase traffic over time.
Traffic is essential to your brand's growth, engagement and lead generation.
So let's make sure we know how to understand it in order to drive better traffic and boost your overall content performance.
So here's where you can find your overall traffic report in your Google Analytics account:
Head into your Google Analytics account, scroll down to "Behaviour" click on that, when it reveals the drop-down, click on "Overview".

This will give you a great macro view of the traffic your site or blog is generating.
You will also be able to set custom time periods to measure your traffic growth over time. Ideally, you want to see that your traffic has been growing over time. This should happen if you have a content strategy in place.
That being said, we actually developed a great content strategy template to help align our business and marketing goals. Go take a look over 👉 here.
But traffic metrics can be split into a few different categories, here's what they are so you can make sense of what you're seeing:
Users. These are counted as unique visitors. A unique visitor is only counted once within a specific timeframe.
Sessions. Counts every time someone lands on your website, regardless if they've been to your site before or not.
What you want to be tracking is the amount of traffic that you've been able to generate over a certain period of time. If this is not on the rise, you need to asses why this may be so.
I'm going to show you how to access an organic traffic report to help you make strategic content decisions.
Organic traffic.
It's important to understand what portion of traffic organic search is producing for your brand. This data will help you make informed decisions regarding your strategy going forward.
In your GA account head over to "Acquisition", scroll down to "All traffic" then click on "Channels".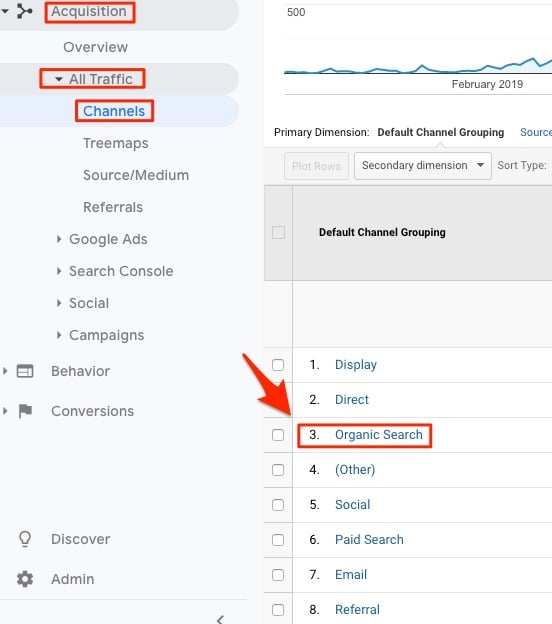 Then, go ahead and click on "Organic Search" and select "Landing page" under where it says "Primary Dimension". Like this 👇

If you're wanting to take a deeper look at how your blog content is performing, then do this:
Copy everything after your primary URL and paste it into the search box.

This will generate a report that will show you your top-performing articles along with a load of other data from bounce rate to sessions that they've generated.
You now have the ability to assess and analyse the pages that are performing well organically. And those that aren't.
Those that are performing well...it's advised to be very careful as to how you update these. Google ranks them well so you really don't want to be doing anything to affect those rankings.
Those articles that aren't performing so well you may want to analyse them next to the ones that are performing well.
There are a few things you could consider when updating these pages:
Include links to high-traffic, high-converting pages.
Ensure your message is clear and in line with your brand.
Does it have a relevant CTA? Or could your CTA do with an update or the addition of a mid-content CTA?
There you have it, understanding what traffic your site brings in will allow you to make data-driven strategic decisions for your brand.
2. Bounce Rate
Okay, so we think It's definitely worth unpacking some of the confusion around bounce rates.
Here's how Search Engine Journal defines bounce rate: "A bounce is when a user enters your website on a particular page and leaves from that very same page without taking any other actions."
Okay, so some of it comes down to this...event tracking.
Depending on how you decide to set up event tracking on your website, this will affect your bounce rate on certain pages.
Here's what this looks like; if a user enters and exits a page, this is tallied as a bounce, but a user that enters that same page and presses play to watch the video that you've set as an "interaction" and then they exit, this is not counted as a bounce.
It's, therefore, worth noting that how you set up your event tracking (or don't) will affect your website's bounce rates.
Then you need to consider that the source of your traffic will, of course, affect your bounce rate percentages. Paid traffic often results in higher bounce-rates than that of organic traffic.
You can see this in your GA account by, scrolling down to "Audience" then "Behaviour" then "Benchmarking" then click on "Channels". It will bring up the below report:

You can and, of course, should go deeper to your page-level bounce rate. You can scroll down to "Behaviour" then to "Site Content" then click on "Landing Pages" then click on the top of the "Bounce Rate" column, this will order the pages with highest bounce rate first.

Your bounce rate can be a difficult metric to really understand, but our goal is to try and bring that percentage down, as it does mean that your pages are relevant and engaging.
So what can you do to reduce those bounce rates? We have some tips for you:
Make sure you understand your persona and their user journey.
Ensure your copy is highly targeted and relevant.
Update your CTA's. Perhaps some new copy or design is needed.
Try adding mid-content CTA's into the mix.
Redistribute your piece with some new captions.
It's important for you to really understand what bounce rate means for your brand within your context in order for you to start bringing those bounce rates to where they should be.
3. Conversions
Tracking conversions is so important.
Ultimately you want your site and its content to generate high-quality leads that result in them becoming very happy customers.
In order to track conversions in Google Analytics, you will have needed to set up goals.
Once you've set up your goals you will be able to track them like this 👉 scroll down to "Conversions" then to "Goals" then click on "Overview".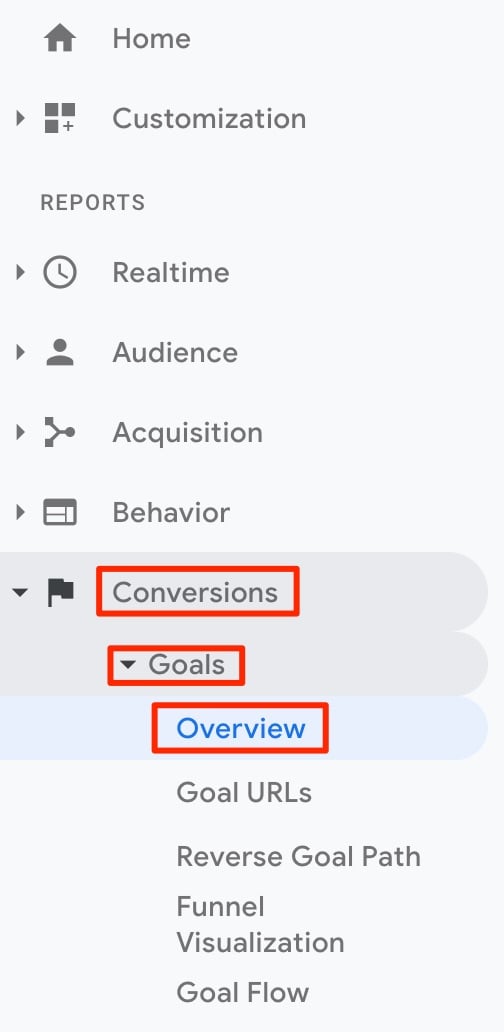 What we're really looking at here, is your goal conversion rate, which this report will bring up.
In this report, it will show you which pages have what conversion percentage, you want to try and make sure those conversion rates are high. The higher your conversion rate, this tells us that these pages are performing well and really speak to a pain point, challenge and really falls well into your user's journey.
Once you are able to identify these high converting pages, you need to make sure they're always updated and that they're shared on social media for further distribution.
Compare these pages to those pages that need a little bit of TLC to boost their conversion rates.
Analyse them. Look at similarities, look at the differences in structure, tone, CTA. Develop an informed idea about what you think may be affecting their conversion rates and implement one or two changes.
Assess these again in three-six months.
Key Takeaways
If you're a content marketer its essential to learn how to unpack your content performance data. It will allow you to make data-driven decisions that influence strategy and should boost your overall marketing performance.
You need to be able to drill down into your Google Analytics account. This is where you will be able to truly problem solve areas of your site for better performance.
Are you looking to develop a content strategy that aligns with your business goals and objectives? We have just the resource for you, simply click the button below to get started 👇