You've probably heard that "content is king!"
But did you know that distribution is queen?
Creating great content is the foundation of most digital marketing plans but content marketing cannot run in isolation from a strong distribution strategy.
Why?
Here's some data to chew on…
51%

of content consumption derives from organic search.

76% of content marketers use organic traffic as a key metric for measuring content success.

94%

of content marketers are using social media as a distribution channel for their content.

People have twice as many interactions with brands on mobile than anywhere else.

61% of consumers would like to be contacted by brands through email.
Your distribution strategy will determine how many eyes you get on your content and this, of course, is directly related to how many leads you're able to generate as a result.
To help understand the importance of a distribution strategy, I'm going to show you exactly how it works.
So let's get started.
What is Content Distribution Exactly?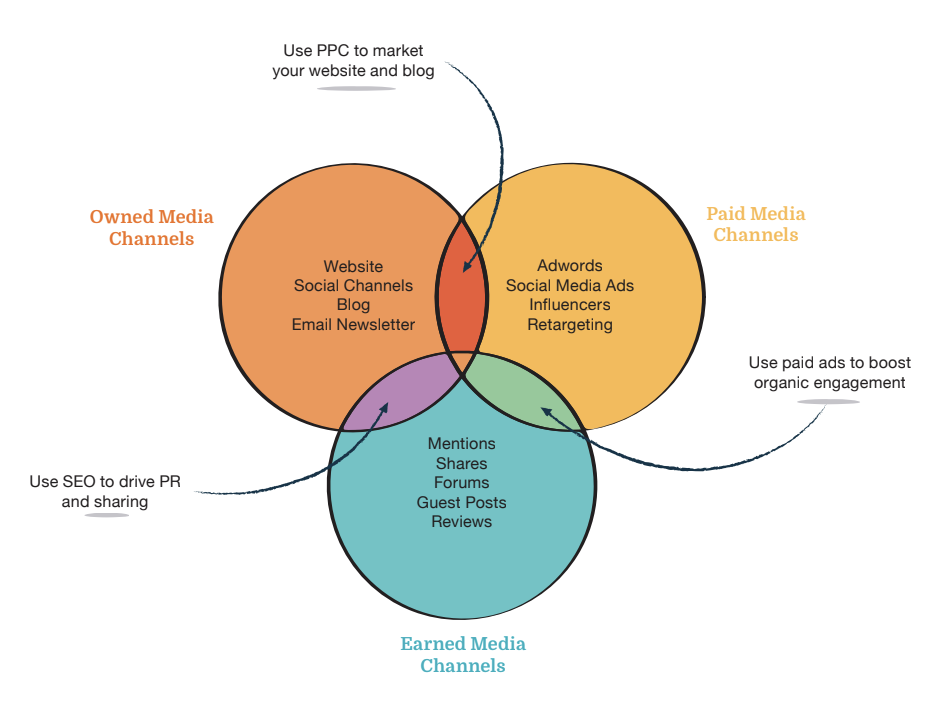 Owned media channels refer to channels you own and control like your social media channels, email, website and blog.

Paid media channels are third-party channels where you pay to reach a specific audience through an ad such as Google or Instagram ads. It can also include influencer marketing.

Earned media channels refer to coverage you get when others talk about you with their audience. It includes social media shares and mentions, being referenced in a blog or website, reviews and PR.
How Do You Distribute Your Content?
Now that you've got the basics of what content distribution is, let's dive into each of the channel groups.
Paid
Paid refers to the money you spend to run Google ads, native ads or ads on social media.
Paid media offers most businesses easy access to their audience and a way to quickly build brand awareness and drive engagement.
Paid distribution allows you to target audiences based on what you know to be true about your target persona, such as job title, demographics, age, location, interests, etc.
The benefit here is that even if your website has no traffic and your social media channels are a ghost town, you can still get your content in front of your ideal audience.
The downside is that naturally, you need to pay for the privilege. The CPC across most channels have been increasing steadily so if you do decide to use paid and your budgets are modest, rather proceed with caution. Pick one channel and test a small amount at a time. As result start to come in you can refine your strategy and put more budget behind what works.
Here's an example from one of our clients Oticon, a medical devices company that specialises in hearing aids. To help them reduce their cost per lead and generate more leads, we built an online hearing quiz aimed at creating hearing awareness amongst their primary target market and used paid social media ads to reach the desired audience.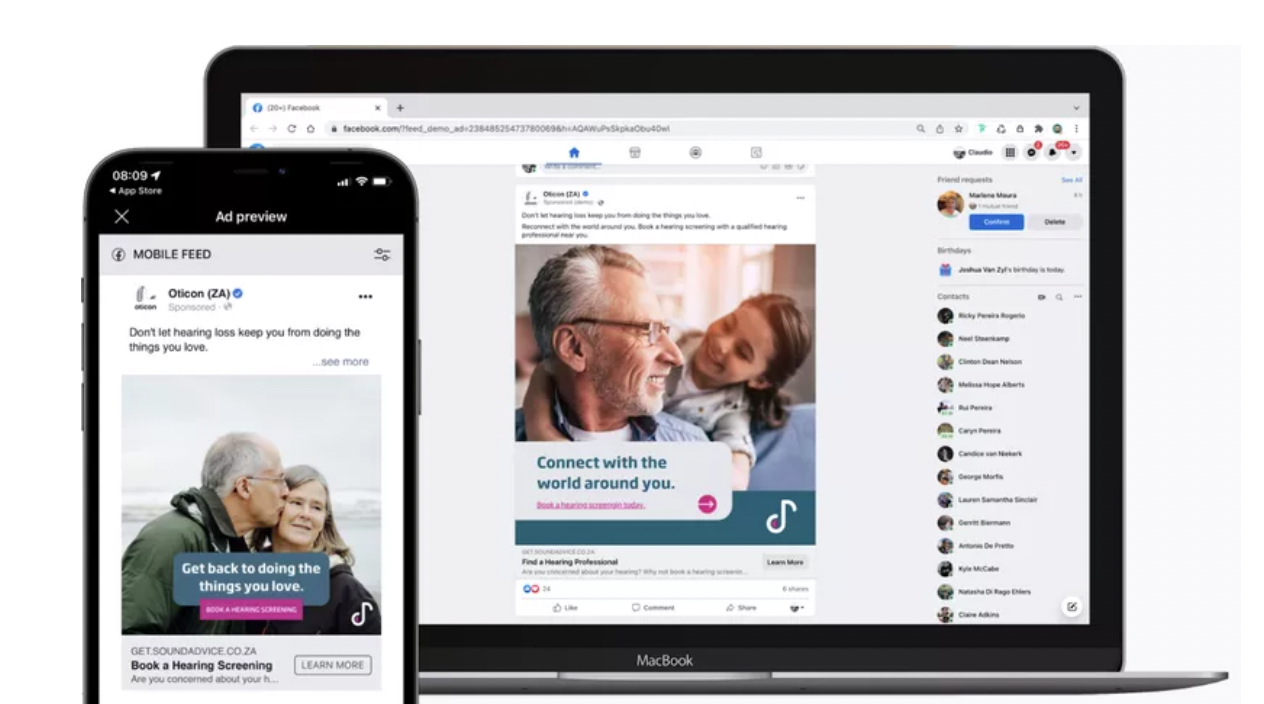 The results?
Oticon's cost per lead was reduced by a whopping 68%. By using targeted Facebook ads we were able to reduce the cost per lead from R117.35 to R46.80! Plus, the targeted Facebook ads increased their number of leads from 409 to 1 689 per month.
Earned
This refers to any publicity you may receive as a result of your campaign. This could mean a featured press release or being listed on a relevant third-party site or your article being featured in an industry blog.
Earned media is a little harder to achieve as it depends on third parties to accept, reject (or ignore) your requests to feature your article, share your post or link back to your site as a result.
This is not an exact science by any means but here are some ways you can proactively grow your earned media:
Help A Reporter Out (HARO)


This is an online service that connects writers and journalists to industry experts. These are micro guest post opportunities that normally require short paragraphs in response to a query or question within a specific industry that someone on your team can answer and submit. If your response is accepted, you can request that they link back to a specific page on your website.

Guest Posting


You can contact industry websites and individuals and offer to contribute blog content to their website or share a high-value piece of content that they could use in return for a backlink or mention.

Reviews


Getting customer feedback and having them leave reviews on Google and Facebook go a long way in helping promote your company's profile. Let's be honest we all read a few of these before buying just about anything.

Forums


Contributing to online communities like local business forums or Facebook groups is a great way to help answer questions and share your content where appropriate. The key to this is to make sure you have the time to do this as authentically as possible.
This distribution technique should become a long-term activity that your team pursues. The results of this strategy can be enormous for your organic reach, ranking and domain authority. Especially if you take into consideration that 91% of all pages on the internet get zero organic traffic, mostly because they have no backlinks. The key to success here will always be your level of consistency.
Owned
This refers to any channel that you own such as your website, blog, social media pages and email.
Each channel you own should be thought about strategically. Ask yourself, how can you leverage each channel while tailoring the content to fit the nuances of each?
Let's look at an example: What do you do when a new blog post goes live?
Email - Send a teaser email to your database.
Twitter - Use a stat from the blog post to ask your followers a question.
Facebook and Instagram - Create a story and share highlights.
YouTube - Create a video on the topic and link to the blog post in the description.
Website - Update the product page CTA to link to this specific post.
Do you see how each channel is thought about and used to give your content the best chance? A one-size-fits-all approach is not a good idea. The results will be underwhelming.
For one of our clients, Hazendal Wine Estate, we focused specifically on their website and blog to increase organic traffic. We developed an intensive 12-month blogging calendar and four top-of-the-funnel content offers.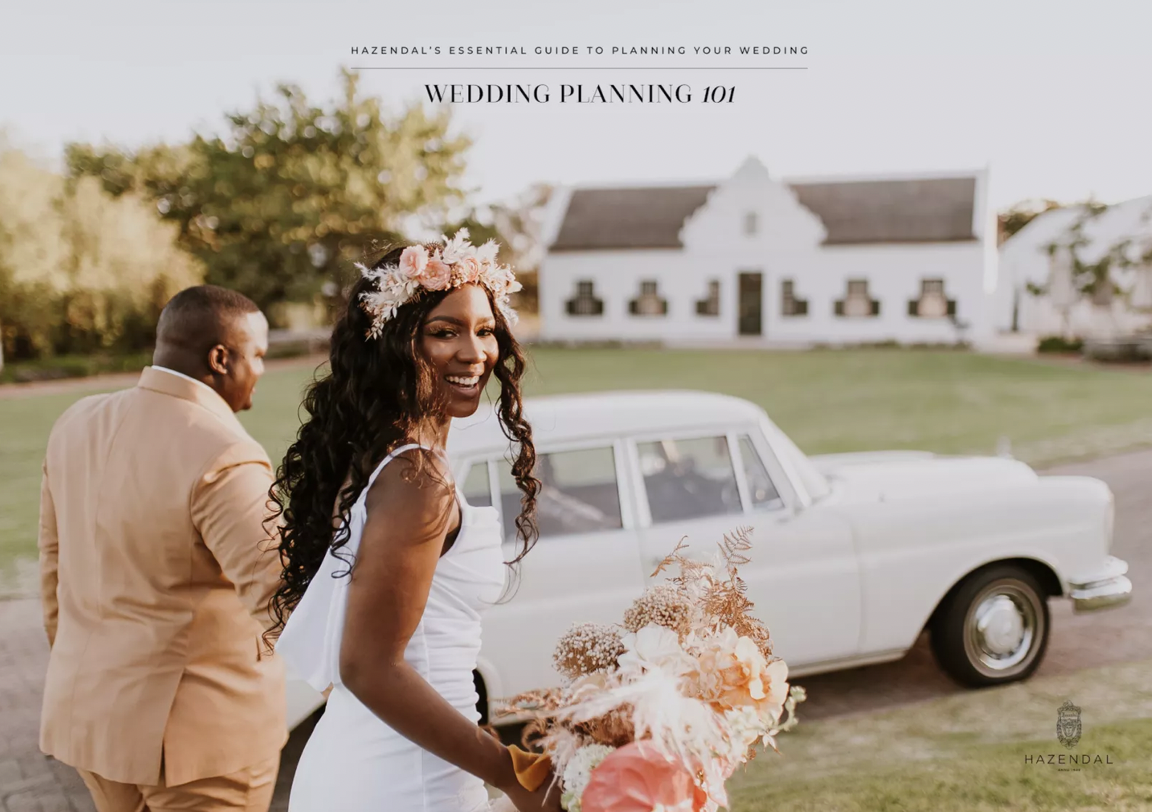 We also built custom landing pages to increase their visitor to lead conversion rates across the website.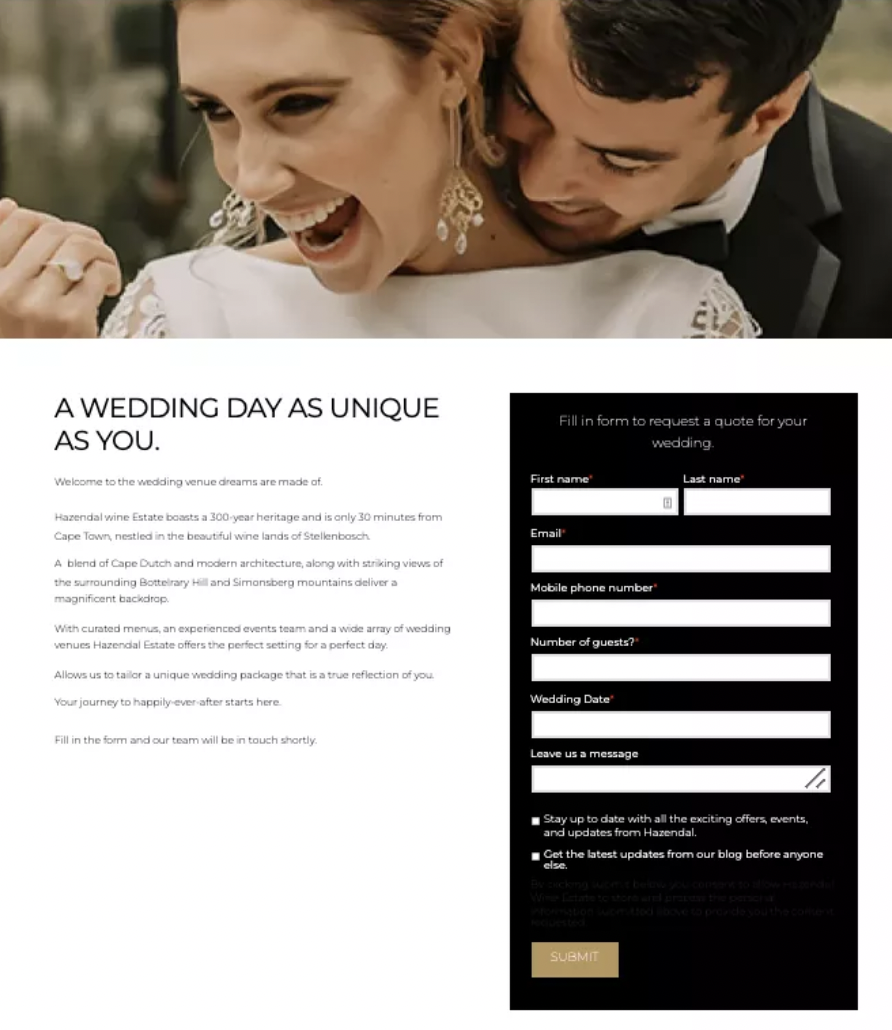 Coupled with paid social media this strategy delivered fantastic results - in just 12 months their organic traffic grew by 237%.
That's the formula.
Your distribution strategy needs to be well-planned and well-executed. Sharing a few links on social media, running a paid campaign and perhaps spamming a few forums will not get you the kind of results you're looking for, especially after putting all the sweat and tears into launching your much-anticipated campaign.
Don't let your distribution be what lets you down.


Key takeaways
So while content may be king, distribution is certainly queen.
Without a solid, data-driven distribution strategy, all the effort, time and money you put into creating stellar content will mean very little. After all, your content is only worth something if someone sees it and goes over into action because of it.
Thorough research, analysis and strategic planning are absolutely required to get your content as far and wide as possible.
To achieve measurable results, your content and content strategy must be considered and aligned, not only with your core message but also with your target audience and their preferred channels or platforms. That way you can be sure that your message will reach your desired audience and have the desired effects.
If you're looking to take a more strategic approach to your content marketing, we've created a strategy template to help you do just that. Simply click the download button below to get you started.