"47% of B2B marketers say their organisation doesn't measure ROI on content marketing efforts, and 18% are unsure" according to the Content Marketing Institute's recent B2B Content Marketing report.
Perhaps because ROI is tricky to measure or because it's relative to what you're wanting to achieve with your content strategy. Either way, there are not enough B2B marketers measuring the ROI of their content efforts.
With this in mind, we decided to have a chat with a number of different content marketing experts to give us their insights into the importance of effective content measurement to really prove ROI.
So let's get started:
1. Behavioural metrics are important
We spoke to Mia Čomić, who is the senior content marketing specialist at Content Insights AD. She had these insights into proving content ROI:
"Calculating the ROI of your content marketing efforts is always tricky, especially because not every piece of content you produce has a direct, short-term goal of selling something.
Depending on the set goal of a certain article - different metrics for assessing ROI matter.
For example, I use a content analytics tool called Content Insights where I will take a look at certain behavioural metrics. The tool uses a complex algorithm called the Content Performance Indicator (CPI) which takes into consideration dozens of different content performance metrics and examines their relationships with each other.
It also weighs them differently according to three behavioural models: exposure, engagement, and loyalty. The CPI is always presented in the form of a number, from 1 to 1000, with 500 being the baseline (the "norm") for the observed website, section, topic, author or article.
So, for example - if I wrote an article with the intent of raising brand awareness, I will look at metrics relating to the Exposure CPI and Engagement CPI.
These insights allow me to assess the success of my content, see how it resonates with my audience, and allocate the content production and content distribution budget properly. I also then have the insights to adjust my content strategy based on the data, not on my gut feeling."
Mia has touched on a really interesting point here. How often are we spending time analysing how our prospects are engaging with our content in order to truly make data-based decisions to our content strategy?
2. How much money have you spent?
I spent some time chatting to Sergey Aliokhin, the former marketing manager for Ahrefs about his opinion on determining content marketing ROI. He had this to say:
"Key metrics to measure ROI are a little more complex rather than simple and straight to the point.
You should spend time comparing how much money (and time) you've spent creating content. This should include your promotional activities such as PPC ads, social media ads, outsourcing, etc. From there you could count how many leads you were able to generate and how many of these leads you have turned into customers.
It's not that simple though, you will also need to determine the time it took for your lead to become a customer. If it took 12 months to close a lead that came through a specific article your ROI will look different to a lead that took just three months to close."
According to the Content Marketing Institute, "Content marketing generates over three times as many leads as outbound marketing and costs 62% less." Therefore, in working out the cost of these different elements it will prove invaluable for understanding the value your content provides for your business.
3. Web traffic
One important metric and perhaps somewhat an obvious one is the website traffic driven from a particular article. It's important to consider how much traffic that article brings in month-on-month, how many leads it generates but also which channel most of that article's traffic is coming from.
This should help you deduce a few things…
A good starting point would be to understand what the article is addressing and from there you may find it beneficial to look at how you can address the topic in different ways or perhaps even develop a topic cluster out of it.
You can read our guide on how topic clusters should fit into your content marketing strategy.
It will also be important to take a close look at the conversion rate of this article. This will help you optimise an element of the article to boost the conversion rate for this piece.
This could include changing up the CTA, the colour, the copy or even making it Smart, so that you're able to further nurture your leads toward a sale.
Pro tip: make sure you only change one thing up at a time, too many changes will muddy the waters so-to-speak. The point of conversion optimisation is to be able to pinpoint exactly what was optimised to provide that boost for your article.
We also like to analyse the channel that generates the most traffic for a particular piece. In knowing this you're able to effectively assess which channels should require greater strategic focus. This also allows us to understand where our persona's are spending most of their time, which gives us the opportunity to adjust our distribution strategies accordingly.
4. Social media metrics that matter
Believe it or not, social media metrics play a huge role in allowing you to determine the ROI of your content.
We spoke to Sarah Browning-de Villiers who is the Chief Content Officer over at Publicis Machine, she had this to say:
"The brilliance of social media, for me, lies in how extremely targeted it can be, and therefore how relevant you can be with your content marketing.
I think the first step must always be to understand your client's objectives – how will they measure success? If a content marketing campaign is to seed awareness and build an engaged community in advance of a more promotional or 'hard sell' campaign, then reach (read: relevant reach!) and engagement become key.
It's also important to understand the user behaviour behind these metrics – for example, how are people engaging with your content, and who are these people exactly? That way, you're also using the seeding content campaign to derive insights for when you launch your lead campaign. Once again, this further increases the level of targeting and relevance you can achieve."
The importance of understanding user behaviour has never been more important in the content dense landscape we find ourselves in.
"I think another thing worth remembering is: only ask the user to do one thing.
Want them to watch a video? Ask them to do this, and then measure this specifically. If you want them to click, be sure your messaging, creative, ad type, objective and metrics are all aligned to this.
Forcing yourself – and your client – to be very clear about this one thing up front is crucial to success. If you want a campaign to achieve more than one objective, break it into phases to allow for each phase to remain focused on one single thing that you want a user to do."
This comes down to the importance of tracking social media engagement. If you produce great engaging content, the user will want to either link to it or share it on their own social media. You don't need me to tell you the value that this creates for your brand.
You can track this engagement using Google analytics; first head into Acquisition, then scroll down to social media, then scroll down to network referrals. This will bring up data on how individual channels are performing.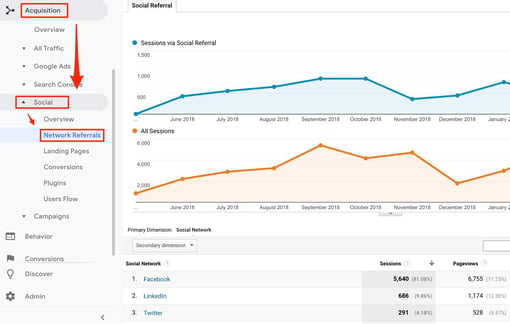 Or if you're using HubSpot, you can track your social media engagements like this: Click on your reports tab, select traffic analytics, scroll down to your sources and isolate social media.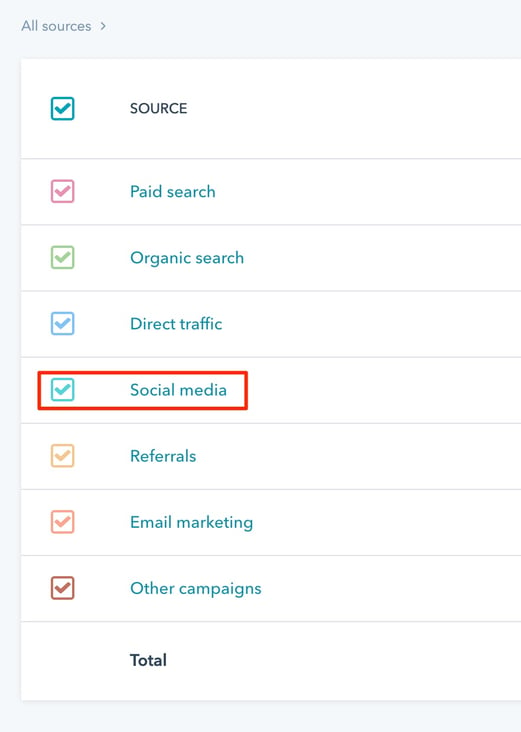 These metrics are important to track as more and more purchase decisions are made through peer recommendation and the ability to read and access online reviews. This means that by understanding where our personas are hanging out and engaging with our content we're able to make informed decisions about where to spend more time and money.
Sarah went on to say this:
"That's exactly the magic of fantastic content marketing: content that your identified audience is interested in, that adds genuine value to them, and that makes them stop and engage, regardless of the brand or product you are ultimately pushing. If you forget this, then however big your media budget, you're not going to achieve the best results."
Thanks for your insights Sarah 🙌🏼
Key Takeaways
It's important to note that you don't need to track every metric, there's no value in getting overwhelmed and measuring absolutely everything – instead, focus on a few metrics that make sense to achieving your goals.
We know that content marketing can produce some spectacular results for your business, but it is absolutely crucial to understand the ROI your content marketing efforts are producing.
It will allow you to make data-based decisions based on the way your prospects are engaging with your brand, which will allow you to market to them better and smarter.
So there you have it. Proving ROI is no easy task, but it's worth every penny when you're able to do it effectively for your business.
A template to master your Content Marketing Strategy, once and for all! 💪