When we see people sitting around staring at their cellphones, we complain that they are antisocial.
What if we reframe that and understand that they are being social…it's just that their "social" attention is focused elsewhere.
I have a clue as to where their attention is!
Yeah, and where is that?
People are spending between 24 and 32 minutes on Instagram Stories a day.
They are paying a lot of attention to stories because they understand their ephemeral nature and know that not all content is meant to last forever.
The limited lifespan of Instagram Stories demands our attention right here, right now!
Let us not complain but rather let's fish where the fish are.
When Instagram Stories launched in 2016, it came into the market as an imitator of the then king of ephemeral content sharing, Snapchat but it has surpassed them now
Instagram Stories are now setting the tone for what temporarily sharing content will look like in 2018 and beyond. They offer marketers a new avenue to connect with their customer base and to take advantage of one of the fastest growing social trends.
So in order to understand how you could achieve similar success through your Instagram Stories, let's take a look at how five different brands have managed to keep their followers from tapping past their content;
Brunch Boys is the one man team made up of, former TV Producer turned Food Critic, Jeremy Jacobowitz.
He has turned his passion, brunch, into a full-time career visiting, reviewing and eating from kitschy hashtag-worthy restaurants that The New York Times would never review!
Brunch Boys wins because unlike other food-based profiles that post pictures several days or weeks after the photo is taken and heavily edited, he does it almost immediately.
Brunch Boys uses Instagram Stories to show the behind the scenes of all aspects, all the way from booking a brunch reservation, the restaurant decor to filming and taking certain shots of the food.
There is a real feeling of authenticity to all this.
Take a look at the time he went to Australia to get olive oil!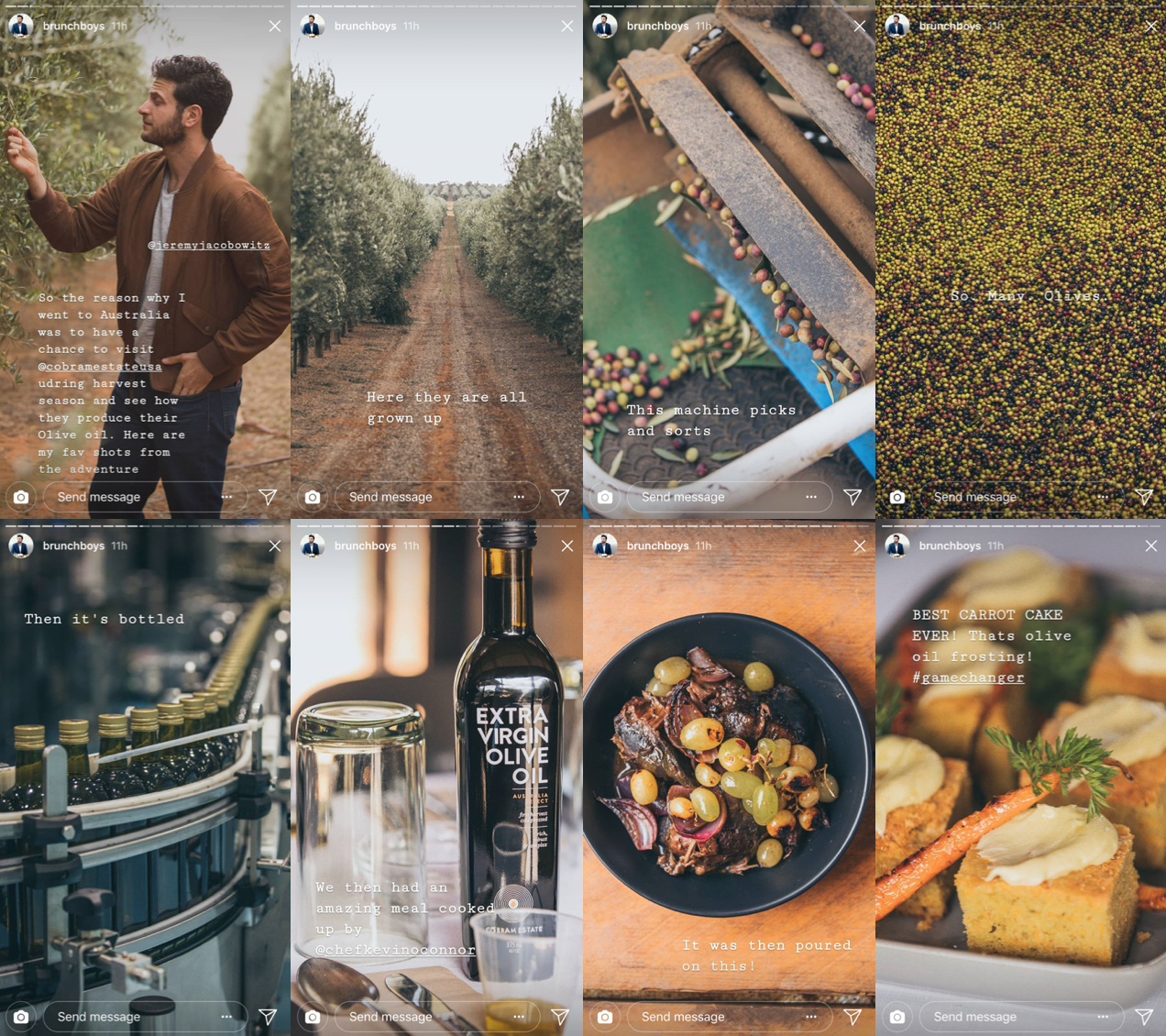 Arcade is a local Cape Town restaurant slash nightclub that uses Instagram Stories to advertise all their upcoming events.
This has ensured that they have a full house every single night that they are open.
They go even further by using Instagram Stories to showcase local revellers as they are partying the night away, which I'm sure creates a sense of #FOMO if you are sitting at home!
If you have ever set foot in this establishment it is easy to pick up the theme of black, white and purple. They stay on brand in all their stories by keeping to this exact same colour scheme.
This is a brand that truly understands its audience in that they don't mind throwing around the odd f* bomb in their posts, which only seems to gets their audience more riled up for the upcoming party tonight!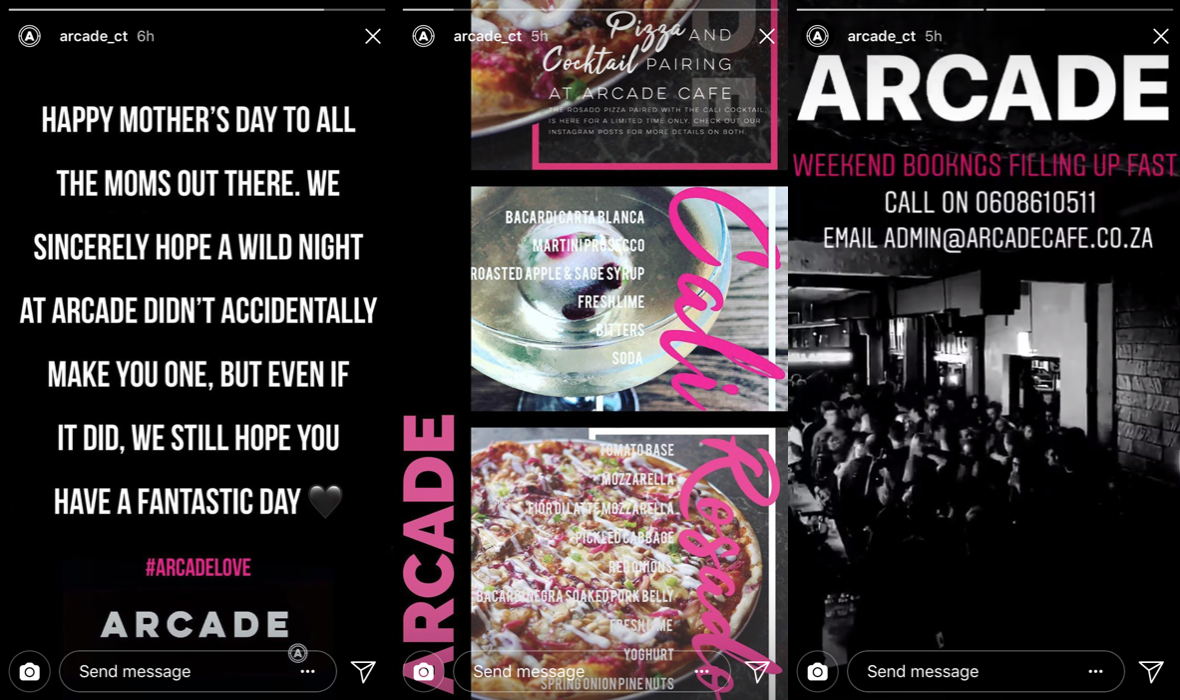 Jesse is a filmmaker who takes Stories to the next level as he commits to their production with the same commitment a Hollywood producer would commit to the next instalment of The Avengers.
His Instagram Stories have seen him gain a follower base of over 96 000 followers.
Jesse wins because he shoots scenes from his everyday life and has understood that this is a unique and under-utilised opportunity to drive up engagement.
He uses this unique feature to create mini-vlogs that he edits before uploading, offering his followers better content than raw footage taken with an iPhone but also taking the concept further than just sharing random content captured once in a while.
He essentially makes a movie of his day that is built on the back of 15-second video clips with background music and all!
In this story, he gets annoyed because there is a helicopter circling his house for 13 hours and he can't get much work done and this goes on late into the night.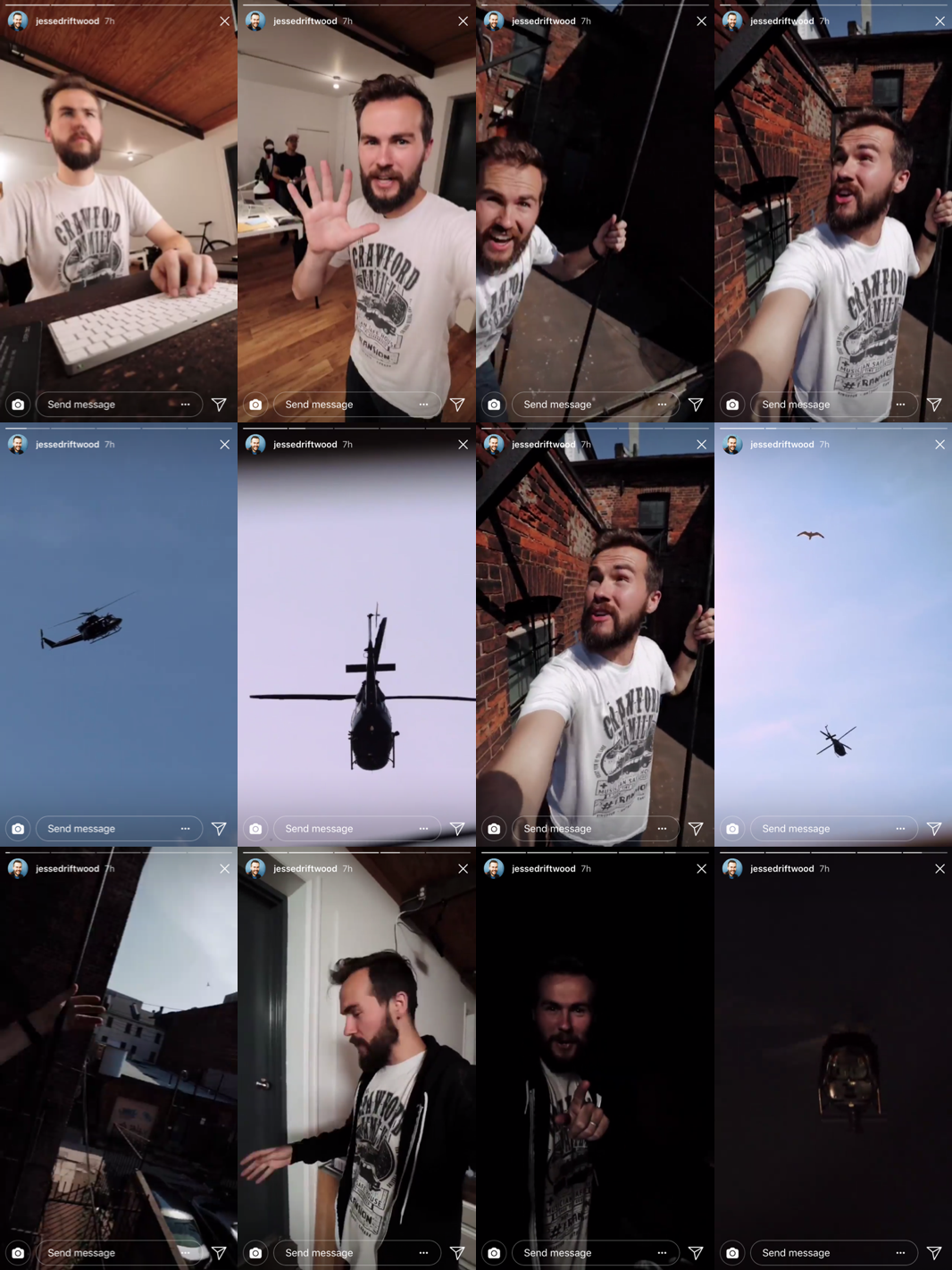 Crossfit in MASSIVE and their attempt at promoting a whole lifestyle from a single account can be seen as nearly impossible. They have to take into consideration the international nature of their audience with all its different cultures and traditions.
They win because they stay on brand.
They have managed to find the sweet spot where they will appeal to the elite athlete and the mother of three who just walked out of her first workout.
One can't help but commend them for staying true to their brand and utilising their resources.
They make use of Instagram Live which is later shared to their Instagram Story, user-generated content and influencer marketing, all in one story, which is pretty incredible.
Their Instagram content also covers their brand pillars of food, fitness, community, and musclehead humour.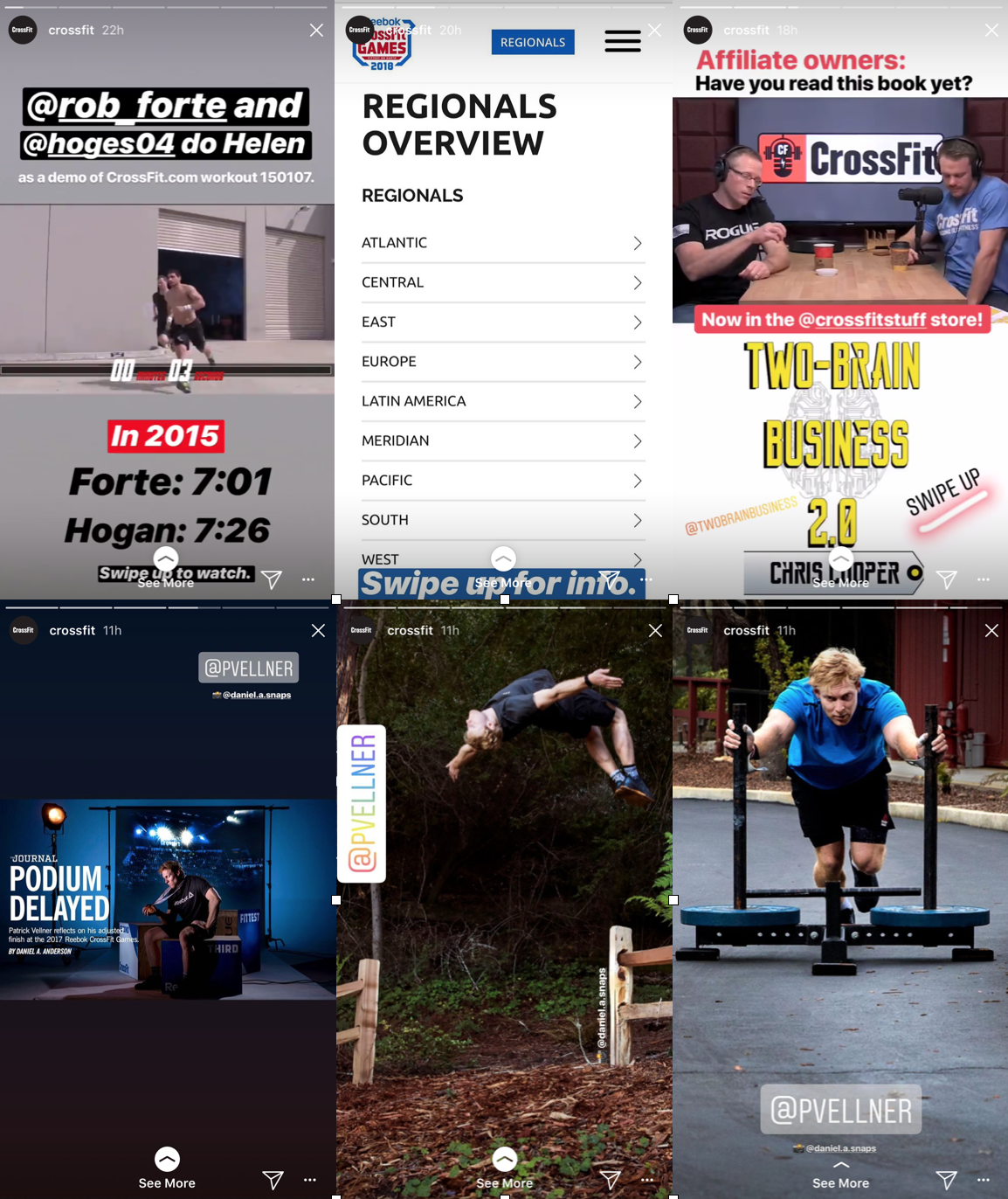 Love him or hate him, Vaynerchuk IS social media right now!
Garyvee as his beloved followers call him has mastered the art of omnipresence. He is everywhere, all the time!
His Instagram Stories are a mix of high-quality edited content and raw authentic content.
Vaynerchuk has been using Instagram Stories for several purposes, promoting his DailyVee videos through high-quality visuals, sharing very authentic glimpses into his daily life, and connecting genuinely with his followers.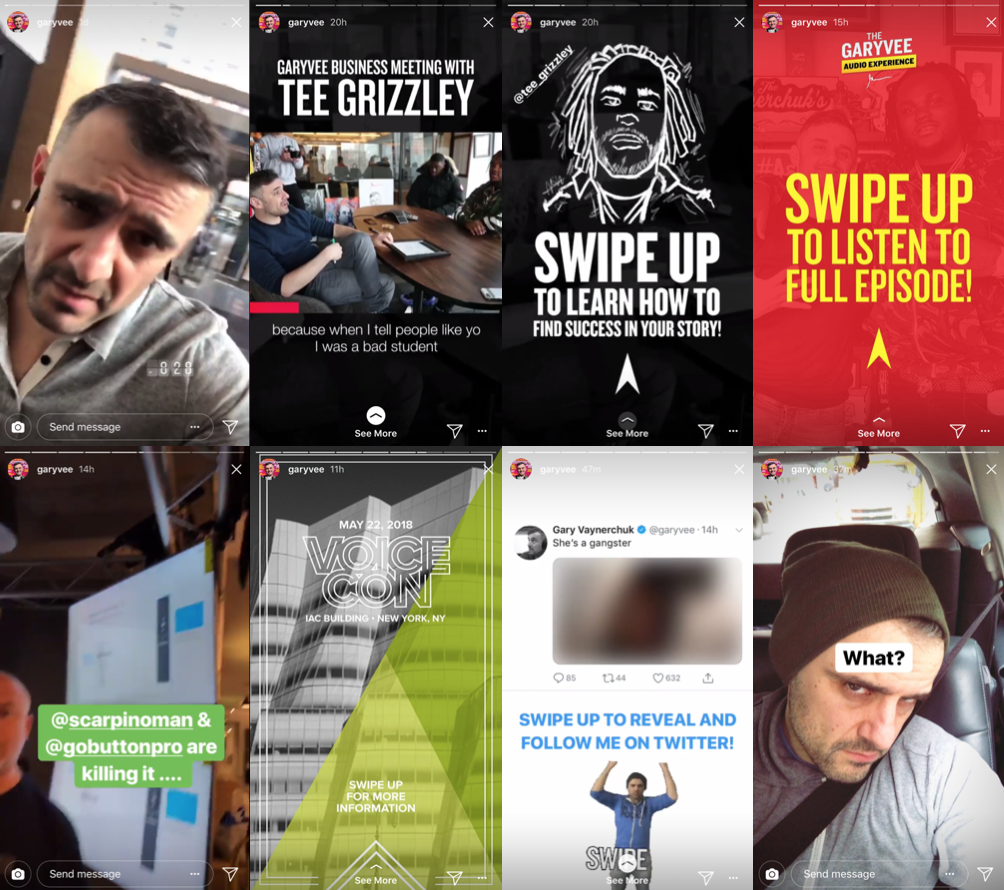 What we can learn from Instagram Stories?
1. Authenticity is Golden
Stories happen in "real time", leverage this to build trust by showing your followers what life is like behind the scenes.
That is, if you have a restaurant, show us how certain dishes are prepared.
Are you a part of a sports team? Share your training sessions & give us fitness tips
Maybe you're a fashionista? We all want to dress better, help us out!
The creative opportunities of this platform are limitless!
Beware that those who are caught being inauthentic run the risk of having their reputations sullied...you know what they say, it takes a lifetime to build it and only a moment to ruin it ;)
2. Don't be afraid to experiment
In the examples above, each brand uses a different strategy, there is always more than one way to skin a cat.
The inexpensive nature of Stories gives you the freedom to try different strategies until you find the one that is right for your brand and for your customers.
3. Mix and match different content types in your Instagram stories
Add variety to your stories by using a mixture of videos, photos and written text to keep your followers attention.
If you run out of ideas, try experiment with the in-app built-in features such as Boomerang, Super Zoom and Stop Motion, these can add some life to boring and soundless videos.
If you use Instagram posts to drive traffic to your content on your blog, Medium publication or YouTube channel, create promotional images and mention that the link is in your bio.
If you create images for your social media posts, make an additional image for the vertical screen or reuse the one you created for Pinterest.
Use Instagram Stories to do research and interact with your community. What types of content do they want from you via Instagram? How can you provide those content to them?
Let me give you a quick tip on how to do this...
By taking advantage of the polls feature, this gives you a frictionless way to hear your audiences two cents on any decision and will save your brand time, money and energy.
Be careful of cramming in too many words, you don't want the reader to miss out on too much.
Use print well and create great visuals; as 30% of viewers watch Stories with the sound off.
Leverage Influencers and Use Takeovers
Use Influencers to extend your reach and help you to tap into other markets and potential audiences.
Instagram takeovers can help build trust when you allow an Influencer to take other your account and invite their followers along for the ride. Just make sure that your Influencer of choice is a brand fit.
Most importantly, use all the features that are available on Instagram
If you are not using stories you are missing out on taking full advantage of what the platform offers.
Right now Stories is a top priority for Instagram, in fact currently in order of importance I would put Instagram stories way ahead of the traditional platform!
Let me explain by analysing the current Instagram algorithm:
The algorithm rewards 6 main components:
Authentic engagement of users with your posts
The interaction between you and your users on your posts
Timing e.g. How quickly people engage with your content
Specificity: On post focus, hashtags, users who engage & anything that allows Instagram to say "this is a unicorn lovers' account, so I'm going to show this content to other people who love unicorns!"
Your use of a variety of Instagram features meaning that you must stay on top of updates & new features but most importantly you must use them.
Time on post, this last metric alone should be enough to convert you. Think about how a typical user consumes their Instagram feed, by scrolling up. They thus only spend about 4 seconds on a photo and then continue scrolling. When you post a 15-second story, you already have their attention for 15 seconds (3.75X longer than a normal post). Imagine what happens if you could post 4 interesting stories? You get my drift...
So dive in full feet with those Insta stories and let us know how it's working for you!