Great, you're all clued up on Facebook's image sizes, let's apply the same to Instagram, Twitter, Linkedin and the rest of your social channels! We're going to stop you right there. There are many aspects to Content Marketing that you should be aware of, and sizing images is one of them.
Sizing images correctly for your social media platforms is a lot trickier than what it may seem at first. For example, shared link images have different dimensions to shared images. But, it is not the same across all channels. Each social media platform's image dimensions are unique. Each photo's dimensions will vary depending on where the image is being shared, so it's important to stay up to date with the latest sizes so that your social media platforms look professional and cohesive.
Fortunately, we've got you covered with our Content Marketing: Ultimate Social Media Image Size Cheat Sheet.
Our Infographic covers the correct image sizes for Facebook, Twitter, Instagram, LinkedIn, Google Plus, and Youtube. Keep our visual guide on hand for designing and selecting your visual content and scroll down to the bottom of the page for a quick list of image size essentials.
You may be interested in our 121 Growth Hacks Guide 👉🏼Click here.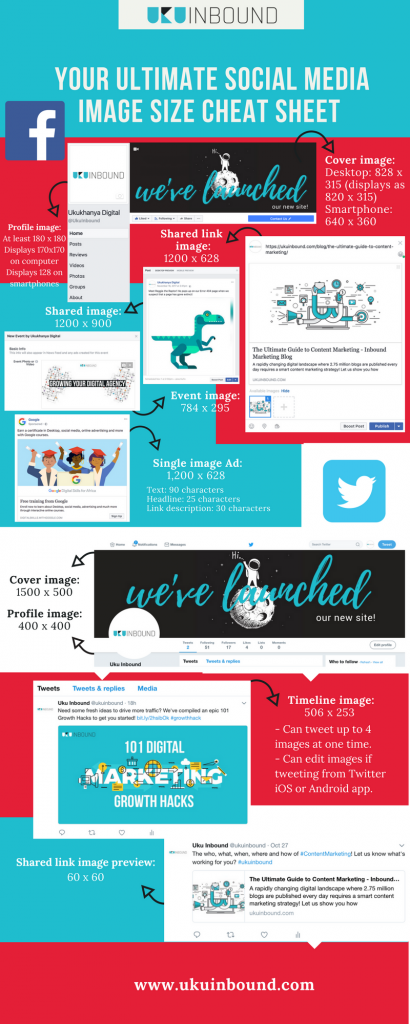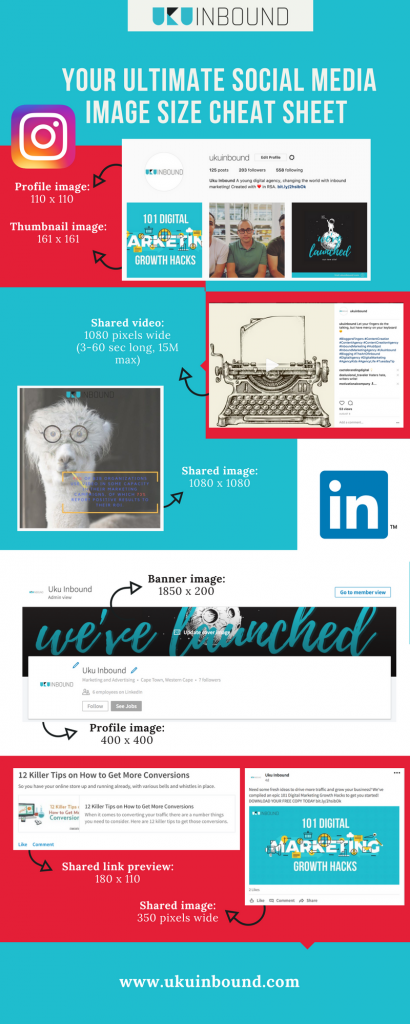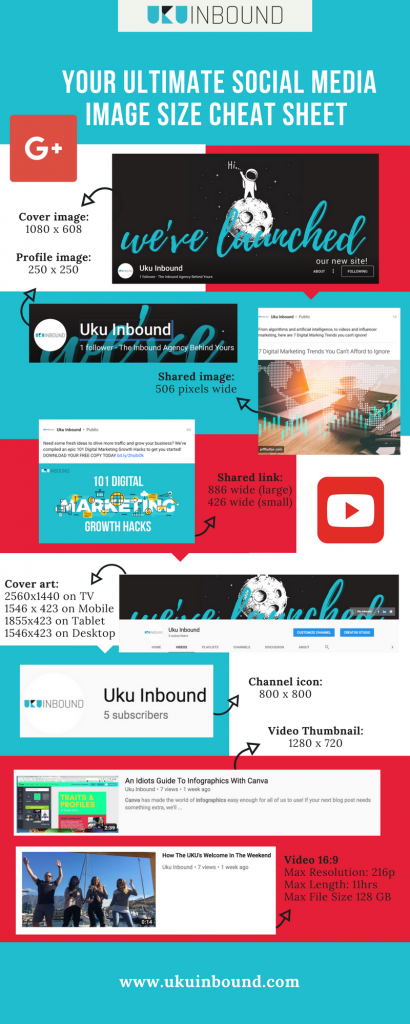 1. Facebook
Cover image: 828 x 315
Profile image: ≥180 x 180
Shared image: 1200 x 900
Shared link preview image: 1200 x 628
2. Twitter
Cover image: 1500 x 500
Profile image: 400 x 400
Timeline image: 506 x 253
3. Instagram
Profile image: 110 x 110
Image thumbnail: 161 x 161
Shared images: 1080 x 1080
4. LinkedIn
Banner image: 1850 x 200
Profile image: 400 x 400
Shared image: 350 pixels wide
Shared link preview: 180 x 110
5. Google Plus
Cover image: 1080 x 608
Profile image: 250 x 250
Shared image: 506 pixels wide
6. YouTube
Channel art: different on various viewing platforms
Channel icon: 800 x 800
Video thumbnail: 1280 x 720
The only Content Marketing Strategy Template you'll ever need, just hit the button below if you'd like your free copy 👇